How cool would it be to own a scrubs top with a neat backstory? If you love the idea, then this gorgeous mock wrap top, designed by Tokyo-based artist Chico Hayasaki, is for you! Hayasaki's inspired design features brightly colored roses of varying sizes and a super flattering, cute cut.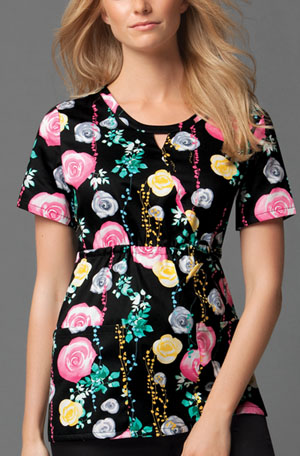 Hayasaki, who studied in the art department of Lewis and Clark College in Portland, OR, explains her career inspiration:
"I've been especially interested in drawing since the time I was in middle school. This was when I began to aim for my future career goal of being in the arts. Since my major was design in college, naturally, I chose to be a designer after graduation. Though after one year of working as a designer, I realized that I really wanted to draw pictures instead of purely design. That is when I decided to become an illustrator."
As for her designs, her inspirations are "nature–flowers, plants, and trees–which grow indefinitely. I always am observing parts of landscapes, such as snow on the ground, piles of dead leaves on the ground, and parts of building walls, that evoke the endless stretches beyond." We're definitely digging the floral inspiration on this top–perfect for spring!
Hayasaki has illustrated major ad campaigns for Bare Essentials and Le Sportsac and worked for clients like GAP, Four Seasons magazine, Madame Figaro Japon and Elle.
Love this top as much as we do? See the official scrubs listing here and then check out our scrubs finder to see where you can get yours!
Sponsored by Cherokee Uniforms