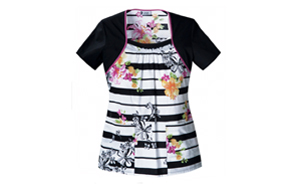 Winter is the time to cover up your scrubs with a warm-up jacket and experiment with layers. But summer is the season to pick scrubs that stand out on their own. This upcoming season is bringing lots of new designs and prints from all your favorite brands.
Here's a look at how to work these new trends into your wardrobe for maximum style and comfort in the hotter days ahead.
The Scrub "T" Top
This year, we're seeing an upswing in the number of scoop-neck scrubs tops. If you're always battling to keep your cleavage covered appropriately in a V-neck or wrap top, you'll appreciate this trend. Some of the round-neck scrubs still look like blouses, but a few will make you do a double take. They're cut just like a comfy T-shirt, although the fabric is still a poly/cotton blend that won't cling to your problem areas. Contrasting piping at the neck and arms along with graphic printing keep these tops from looking bland. They'll go well with denim scrubs pants for a faux "jeans and T-shirt" casual Friday look that still complies with many nurses' dress codes.
Blue, Green and in Between
If you keep up with the high-end fashion pieces hitting the runway for summer, you'll see robin's egg blue, aqua, jade and turquoise everywhere. The Gucci collection even pairs two different blue/green shades in a single outfit. These hues look most becoming in solid blocks of color or muted prints that draw attention to your sun-kissed skin instead of distracting the eye with busy designs. For a surprisingly compelling color match, accessorize a turquoise scrubs top with a hint of red.
Next: Off-Center Cuts →