As a pediatric nurse, can you get away with wearing "fun" scrubs? Do you like to be a little silly at work to make your patients smile? Underneath, are you really tough as nails? Here are the ideal accessories and decorations that fit your lifestyle.
Peds Nurses Carry Hugs with Them
Do your patients think you're a big ol' teddy bear? Boost your warm and snuggly image with this hug-alicious long-sleeve tee featuring a "beary" kind nurse cradling a swaddled cub. We're just guessing here, but we think it's a boy!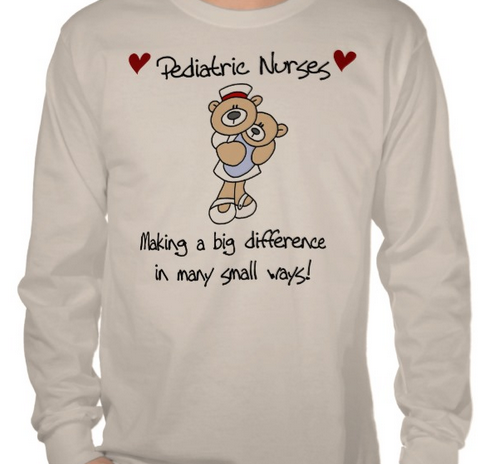 Flower Child, Peds Nurse
This artwork brings a little beauty to the lounge, the nurses' station or even an on-call room. "Peace, Love and Pediatrics" can be your new motto. We think PLP and TLC go hand in hand. The image is printed on a ceramic tile and accented with a solid wood frame.
For Kids' Best Friend
If you're fortunate enough to work in a hospital that has a pet therapy program, you'll squeal with delight when you see this "Kids are my business" doggie T-shirt. You might even want to get a matching version for yourself.
We Wish to Welcome You to Munchkinland
Keeping up with the demands of sick kids can be even more exhausting than playing with healthy ones. When you spend your days "Taking Care of Little People," you need some caffeine. This colorful mug comes in handy when you need to refuel.
Dry Your Eyes…on This T-Shirt
Is there really "No crying in pediatrics"? We know you probably do cry at home or even in the bathroom sometimes. Caring for ill children can be heartbreaking. But we applaud all the peds nurses who keep a smile on their face every day in front of their patients. Your attitude of optimism is contagious!