It's Breast Cancer Awareness Month, so we're taking some time to talk how fashion is helping spread awareness, including discussing the warning signs of this pervasive disease so your patients can find treatment before the cancer spreads to the other parts of the body. Breast cancer is the second-most common cancer among American women. Every year, more than 245,000 women get breast cancer and more than 40,000 women die from the disease in the United States. In addition, there are about 2,000 men diagnosed with it each year, and sadly, around 400 men die of breast cancer annually in the United States, according to the Susan G. Komen Foundation.
It goes without saying that Nurses are one of the largest supporters of breast cancer awareness month, medical grade brands also help show their support through their scrubs and other apparel. Here, we showcase a few medical professionals who are showing their support of BCA throughout October, thanks to Cherokee Uniforms for being such a large supporter of this massively important cause. Check out the ladies below and engage with them on Instagram.
@jrey_rn wears the Cherokee print top and jacket.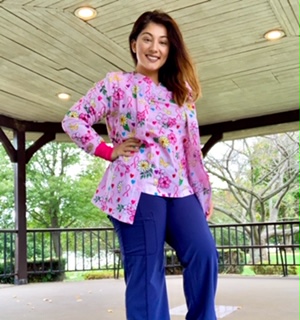 @laceymagen dons the Cherokee BCA OWL print jacket.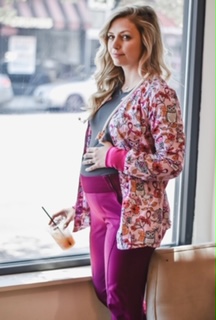 @NurseTaylorr wears the Infinity BCA top and we just can't get enough of her.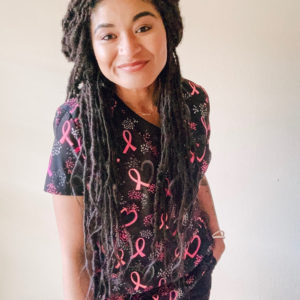 @exploRN_emcheng and @cassandra.cares in Cherokee's All Awareness Owl Print tops.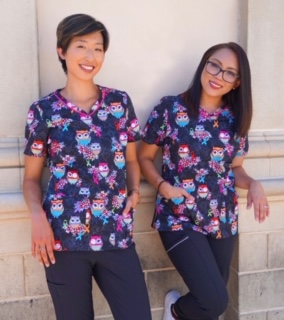 @Jjwebrn – Jess is a showstopper here at Scrubs Mag. She's our group leader for the October 19th BCA walk which includes 12 Nurses in Dayton, OH. See here for an exclusive interview of the BCA walk.
@cpa.einnob Bonnie from Canada. Cherokee print HOPE. FAITH. CARE.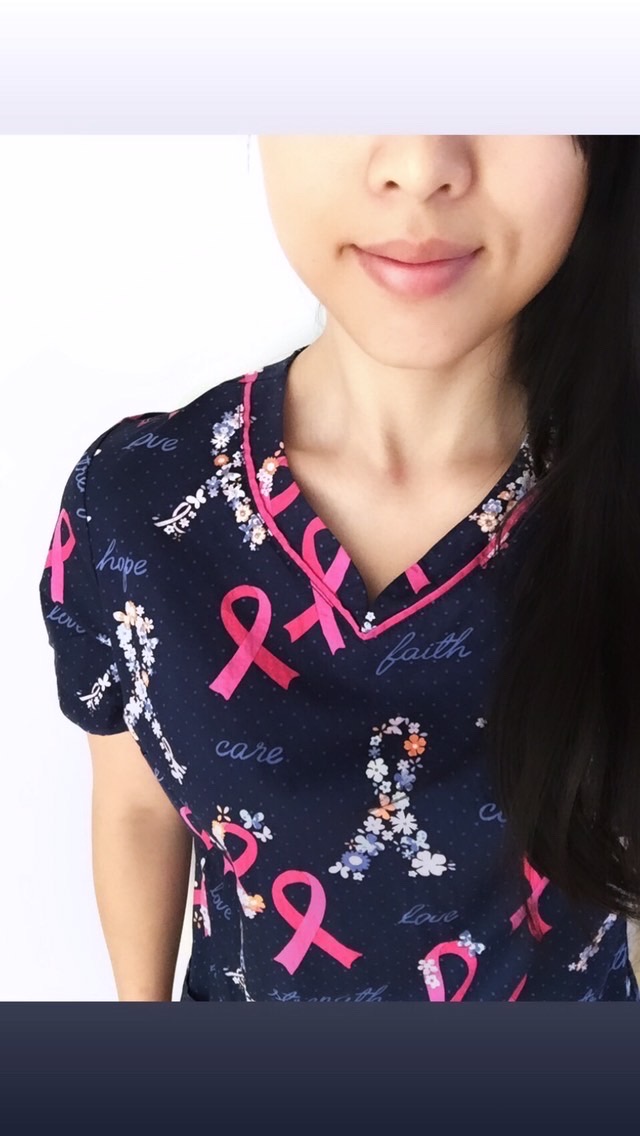 @TheCaffeinatedBSN BCA month means so much to me as my mother recently beat triple negative breast cancer just this past year. It's important for me to spread awareness, encourage self examinations, and uplift all those who have been touched by breast cancer to keep on fighting ?
No one is excluded from the risk of developing this type of cancer, including men. Learn more about detecting breast cancer and various treatment options to increase your and your patients' chances of survival.
Looking Out for Symptoms
As you care for your patients, it's important to be aware of the symptoms of breast cancer. The sooner patients detect their cancer, the easier it is to treat. As a nurse, you should keep these early warning signs in mind when it comes to observing your patients, as well as managing your own health, as well:
Symptoms of breast cancer include:
Changes in the size or shape of the breast,
Pain in any area of the breast,
Nipple discharge other than breast milk (including blood), and
A lump in the breast or underarm.
If you or one of your patients starts exhibiting one or more of these symptoms, it's important to seek treatment right away. Encourage your patients to sign up for mammograms or breast cancer screenings. When it comes to your own health, schedule an appointment with your doctor and consider signing up for a mammogram or breast cancer screening.
While men account for less than 1% of all cases of breast cancer, they are not immune to the disease. Men still have breasts even though they do not produce milk. Men often face a higher mortality rate than women due to a lack of awareness of breast cancer. Men with breast cancer usually develop a hard lump underneath the nipple and areola.
Overall, anyone that's noticed a lump, pain, or something unusual about their breasts should see their doctor as soon as possible. As a nurse, keep these symptoms in mind when treating male and female patients.
Reducing the Risk of Breast Cancer
The risk factors for breast cancer include being a woman, being older (most breast cancers are found in women who are 50 years old or older) and having changes in your BRCA1 or BRCA2 genes. Most breast cancers are found in women over the age of 50, but it can also affect younger women. About 10% of all new cases of breast cancer in the United States are found in women younger than 45.
For most individuals, these risk factors are just a fact of life, but you and your patients can lower your risk of breast cancer by making the following changes to your lifestyle:
Eat a healthy diet.
Exercise regularly.
Sign up for regular mammograms and breast cancer screenings as you get closer to age 50.
Limit alcohol consumption to just one drink a day.
If you take hormone replacement therapy or birth control pills, talk to your doctor about the risks of breast cancer.
Breastfeed your children, if possible.
Talk to your patients, both male and female, about how they can reduce their risk of breast cancer. Encourage patients with a history of breast cancer to sign up for genetic screenings, so they can detect their cancer as early as possible. If you have a family history of breast cancer, talk to your doctor about reducing your risk.
Finding Treatment
Treating breast cancer depends on the individual, the type of breast cancer, and its progression. This process typically involves multiple treatment methods. The most common of which include:
Surgery: Doctors cut out the cancerous tissue.
Chemotherapy: Using drugs to shrink the cancer cells. Medications are taken orally or inserted through the veins.
Hormonal Therapy: Using hormones to deprive the cancer cells of the hormones they need to grow.
Biological Therapy: Using the body's immune system to fight off cancer cells or lessen side-effects of cancer treatments.
Radiation Therapy: Using high-energy rays to kill the cancerous cells.
Patients seeking treatment should talk to their doctor about their options. It all starts with a breast cancer diagnosis or biopsy. Once the patient has been diagnosed, the doctor may refer them to a breast cancer specialist. Doctors across specialties will usually work together to treat the patient's cancer, including surgeons, medical oncologists, and radiation oncologists, if necessary.
Those looking for treatment, a second opinion, insurance information, or home care services can visit the National Cancer Institute for a list of local providers and treatment options.
If you or your patients neglect these warning signs or put off treatment, treatment may be less effective down the line. Everyone should be aware of the symptoms of breast cancer, so they can detect the disease as early as possible. Become an advocate for breast cancer awareness and help your patients find the care they need.