Nursing can be a stress-laden profession (cue the chorus of "duhs" echoing around the blogosphere…).
But all kidding aside, it's true. We have to make quick decisions, and if we're wrong, dire consequences — including death — can be the result! We're frequently dealing with challenging and demanding "clients" — in pain, disoriented, confused, emotional and short on patience! Typically we're working in an environment where there is a shortage of staff and all the patients want our attention at the same time!
So, how well are nurses coping with all these stresses found at our workplace? To find out, check out the results of this Work Stress Profile that is located on the Learning Nurse website. This Profile measures the degree of stress faced by nurses on six factors:
1.     Job characteristics — This component measures the degree of stress related to general job characteristics such as work satisfaction, job and employer demands, and problems / tension at work.
2.     Pay and benefits — This measures stress related to compensation and benefits. It includes inadequate pay, poor promotional opportunities, little time off, etc.
3.     Work schedule — This component measures stress related to how your work is scheduled and organized. It includes shift work, long hours, required overtime, etc.
4.     Teamwork — This component measures stress related to working together as a group or team. This includes poor communication, tension and conflict, no co-operation, and unwillingness to help each other.
5.     Supervisors — This measures the degree to which your supervisors cause your stress. Your stress can be increased by supervisors who are rigid, non-supportive and don't listen or appreciate your contributions.
6.     Productivity — This component measures stress related to any personal problems, issues or commitments that may interfere with you being able to do your job.
To ensure that the work stress results were applicable to the nursing profession, we only used data where the test takers clearly self-identified themselves as a nurse. We also removed records for nursing students, nursing assistants and nursing educators as these numbers were too small to be reliable. The findings reported in this article are therefore based on the responses of 40 Practical Nurses and 51 Registered Nurses (n = 91). In this sample were 7 male nurses, a range of work experience from less than 5 years to more than 26 years, and the respondents worked in hospitals, clinics, continuing and home care and other nursing locations.
Figure 1 shows the average stress scores for the total sample of nurses. Each score was converted to a percent so that the maximum score is 100% and the minimum is 0%. The higher the stress scores are the higher the stress level.
Figure 1: Average Stress Factors Scores for Total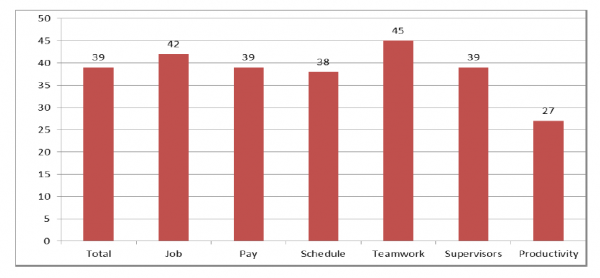 Overall, for this group of nurses, the work stress factors are low to moderate. With an average total stress score of 39 (out of a maximum of 100%), our nurses appear to be coping relatively well. The highest sources work stress is teamwork (more likely the lack of it) followed by job characteristics (work satisfaction, employer and patients demands). The lowest cause of stress is personal productivity (personal problems, issues and time commitments).
Figure 2: Average Stress Factors Scores by Nurse Type
Figure 2 shows the differences in the sources of work stress for Practical Nurses (PN) compared to Registered Nurses (RN). Teamwork, supervisors and pay / benefits are greater sources of stress for Practical Nurses than for RNs. RNs experience more work stress when it comes to work scheduling.