The entire Gulf of Mexico was on high alert as Hurricane Laura made landfall late last week in Texas and Louisiana. The Category 4 storm was the strongest on record to ever hit the state of Louisiana, with up to 150 mph winds.
It ravaged the entire area, including Beaumont, TX and Lake Charles, LA, leaving 14 people dead and thousands without power for what could be months, according to local officials. In a tragic twist, a majority of these deaths have been attributed to improper use of portable generators, which lead to several cases of carbon monoxide poisoning.
Local healthcare providers and business owners did their best to protect the local community from what could have been a much worse disaster. Find out what it was like to work as a healthcare provider in the middle of a major hurricane.
Preparing for Hurricane Laura
In Lake Charles, LA, there was no plan to evacuate the area's only hospital as the storm approached. Doctors, nurses, and crew arrived for their shifts to prepare for the worst. The facility decided to keep staff on in shifts, and entire floors were designated as sleeping areas for off-duty staff members.
"No one wanted to be alone," Dr. Gary Kohler, a pulmonary critical care physician at the facility, told a local news outlet. "When we were on break, a lot of us would sit around a table together. It was a shared fear of not knowing what was coming."
As the storm picked up steam, the entire area was ordered to evacuate. The families of the staff at the hospital left town, but providers stayed with the patients.
Mitigating Fears of the Pandemic
Louisiana has the highest number of cumulative coronavirus cases per capita of any state in the U.S. Lake Charles Hospital was overrun with patients earlier this summer, with a seperate ward devoted to COVID-19 patients.
During the storm, providers worried that the power might cut out or the generators wouldn't work properly, which means they would have to keep the ventilators going manually. If the water supply were to cut out, the staff wouldn't be able to sanitize their hands properly.
Shannon Williams, an ICU registered nurse, says it was the scariest moment of her life. "To be honest, my biggest fear was that the building was going to collapse on us, and that all that would be left of my co-workers, patients, and me was a very sad story."
Bracing for Impact
During the storm, the windows in the facility started leaking. The power went out, but the generators kicked on like they're supposed to. However, the air conditioning stopped working, leaving providers soaking in sweat as they tried to continue working under their PPE.
The water ran out at one point as well, and the staff couldn't even flush the toilets. They used hand sanitizer to keep clean, but it mostly became a waiting game. The phones didn't work the entire night, so the people inside had no idea what was happening outside.
Reflecting on the scene, Kohler said, "Our nurses are the real heroes of this hurricane. They did everything they could to keep our patients comfortable."
Several emergency response workers and an ICU nurse even rushed to the hospital in the middle of the storm to evacuate several NICU infants from the facility, fearing they may not make it through the night.
The next day, most of the facility remained intact. However, officials announced the city may not have running water or electricity for another three weeks. At that point, they ordered the hospital to be completely evacuated. The staff stayed until every last one made it out safely.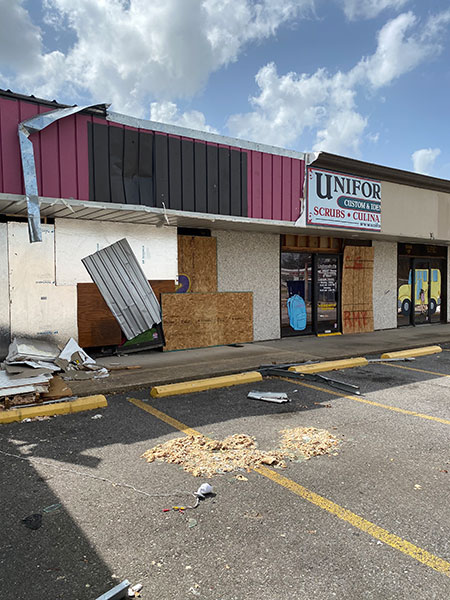 Small Business Owners Take a Hit
Across the area, fierce winds downed trees to the point where it became hard to find a house that didn't have a tree through it. Many small business owners saw their lives change overnight. That's certainly true of Jackie Shuldes.
Scrubs Magazine interviewed Shuldes during the aftermath of the storm. She opened Uniformly Fit, a uniform apparel and embroidery shop in Lake Charles in 2000, after leaving her job as a respiratory therapist.
However, her store no longer has a storefront. Shuldes says she managed to hold onto three walls and the roof, but the face of the store is no more after Hurricane Laura blew threw. Luckily, it wasn't flooded. However, eight large monogram machines remain exposed to the elements and she needs to move them to a climate-controlled environment as fast as possible, or she could lose some of her business's biggest assets. "If I can get these machines inside, it will be devastating for my business," she told us.
She's also faced with the task of finding a temporary store, so she can continue her business until the damage to her property can be repaired. She lost dozens of large spools of thread, embroidery supplies, and all her baby clothes. Surprisingly, she says, "an entire rack of Cherokee Uniforms shoes remained intact."
At home, the hurricane left her neighborhood street destroyed. She has to remove seven trees from her yard, which could cost her up to $15,000. She has insurance, but she just found out she has a $6,000 deductible.
Talking to Scrubs Mag, she says, "I've been showering in my driveway," as she and her husband live out of their camper trailer. However, Shuldes isn't letting the damage get her down. They even cooked breakfast burritos for the entire neighborhood on a BBQ pit.
Assessing the damage, Shuldes agrees with meteorologists and climate scientists who blame climate change and global warming for the severity of the storm. She's lived in the area for decades and says, "the Gulf of Mexico didn't have a proper winter this year, so the water was 90 degrees F when the hurricane blew through." Heat is energy, which only adds fuel to these storms.
Resilient and full of humor, Shuldes is confident that she and her neighbors can recover from the storm. Hopeful, Uniformly Fit will hopefully be back in business soon.
Currently, Lake Charles Hospital patients are being cared for at facilities across the tri-state area until their city is back up and running. Once again, nurses rose to the occasion to help their patients survive impossible odds.
Mike Singer, CEO of Careismatic Brands commented:
"Jackie Shuldes is a wonderful local retail partner to Careismatic and represents our brands like Cherokee, Dickies and Heartsoul with distinction.
We are deeply grateful, to community based local retailers like Jackie, who play valuable roles in their communities, creating jobs, commerce and taking such great care of healthcare professionals.
Their whole team is strong and resilient and we know they'll be back in business soon."