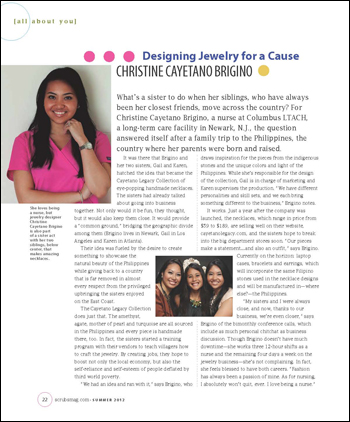 You've heard of dual-career couples, but what about nurses who have a couple of careers? Meet four featured in the Summer 2012 issue of Scrubs who indulged their entrepreneurial spirits and have not just one, but two jobs they love.
Tamatha Grabin
Keeping Moms Guessing with a Special Delivery
Over dinner one night, Tamatha Grabin and her pregnant sister were discussing the downside to keeping your baby's sex a surprise: It's a roadblock to some of the best shopping of your life! You're resigned to buying boring gender-neutral clothes, a limitation most moms eschew.
Grabin, a school nurse and third-party assessor for insurance companies, knew she was having a girl the first time around, but when she became pregnant again, she wanted to keep the sex a secret for the delivery room. (It was another girl!) "I was in the same boat as my sister. I loved the suspense of waiting to hear, but I hated picking out all those ugly yellow and green clothes before she was born."
Grabin, who lives in Buffalo, Wyo., figured that there are plenty of women who forgo the surprise just so they can start shopping immediately for cute clothes in baby boy and girl colors. That's when she had a light-bulb moment: She could offer all of these women a way to shop and keep their secrets safe. Pregnant moms could have their ultrasound results sent to Grabin, and on their due dates she would deliver a box of adorable baby clothes based on styles they'd already picked out.
And so babyriddle.com was born. Grabin's website is packed with high-quality clothes at mid-level prices. Pregnant moms print out a form authorizing their physicians to release their baby's gender to Grabin—and then they can shop to their heart's content. "When her baby is born, the mom is completely surprised and completely prepared. She doesn't have to go shopping and expose her baby to germs; she can just curl up and nest with her newborn at home," says Grabin, who even offers a take-me-home outfit that arrives gift-wrapped, ready to tuck into a hospital bag.
"I'm always coming up with ideas, and this is a good one—there are no other companies out there doing this. Even my husband is excited about it." Grabin notes that there are about four million babies born every year in the United States. "If I can capture just one percent of the market, that would be pretty good!"
Grabin spends about 30 hours a week on babyriddle.com, working with her vendors, marketing to ob-gyn offices around the country, building her presence on Facebook and blogging about parenting. "I'm having a blast with the business. I love connecting with women on a deep level during the most exciting time of their lives, and when I hear how much someone loved the clothes and that receiving them made her day, it actually makes my day."
Her hope is that babyriddle.com "spreads like wildfire." Fortunately, because she's a substitute in the school system, she has a lot of flexibility with her "other" job (and also with her work as a third-party assessor). Grabin is emphatic that no matter how big her company grows, she will always be a school nurse. "I love kids and being a part of their lives."