Tears of joy: A day in the life of a new nurse
It's 8 p.m., and somewhere in the near distance, a mother's cries are barely audible.
To the untrained ear, the grunts and muffled shouts, accompanied by the shallow and rhythmic assurance of a second voice coaching the mother to "push, push, push," might seem strange. To Delia Zamora, it's just a regular Tuesday night.
She has heard and seen remarkable things on a daily basis as a nurse in the Labor and Delivery unit at Glendale Memorial Hospital. Although she's a relatively new nurse with only about five years under her drawstrings, Delia has already amassed a plethora of unusual, sometimes heartbreaking and uplifting stories. That includes her own.
"Okay," Delia says excitedly, settling in after a long day on the job. "Let me tell you my life story. I've wanted to be a nurse ever since I was 7 years old. I was one of those weird kids who enjoyed going to the doctor's office, because to me, it was always fun and intriguing seeing the nurse do what she does. So at home, in my bathroom on the toilet seat cover, I would always put my doll there, and I would get pencils and pretend that I was giving injections to my doll."
Playtime quickly turned into a true calling for the 28-year-old Southern California native, and by the time she was in ninth grade, she was volunteering in the maternity ward of Glendale Memorial Hospital, which turned into a part-time nursing assistant position—all while she was still in high school.
"For three months I went to school seven days a week," she says. "Monday through Friday I went to high school, and Saturday and Sunday I went to CNA school."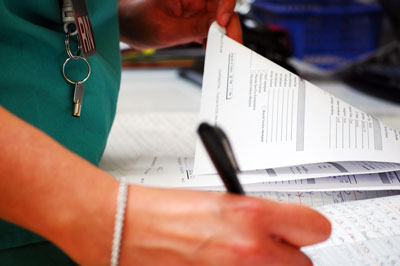 Her sacrifice paid off, she says, in the form of a profession that fits her like a latex glove. Every day—which usually starts around 5:45 in the morning—is full of surprises, pride and a hefty responsibility Delia never lets escape her.
"You're responsible for the life of an unborn child, because you're pretty much managing the care of the patient," she says. "The doctor just comes to see the patients, maybe on admission. The doctor is there for delivery, but you're there pretty much the entire time. You are the doctor's eyes and ears…it's you who takes care of the patient."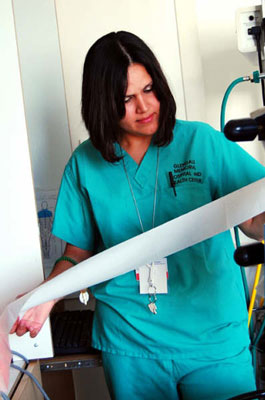 And having a patient with another patient living inside her means double the work and double the anxiety for a new nurse. But a big part of why Delia chose delivery and labor as her nursing specialty was for the action.
"I can't tell you how many complications I had my first year out of nursing school," Delia says. "Every complication in the book. I remember my first complication—a mom with severe PIH. She came in, I took her to the room, and she lay down and started seizing. This was my first complicated patient as a new grad, and I remember how scared and terrified I was. I told myself, 'This is it. This is what you went to school for.' You need to remember what you're supposed to do and just stabilize the patient."
Having a career filled with life or death, hectic situations has made Delia more adventurous, she says. She is currently training for her second marathon, the first of which she completed a few years ago in Canada. Working with so many different kinds of people has also fostered in her a great curiosity for other cultures. She's working on learning to speak Armenian so she can better communicate with more patients when things in the delivery room get rough.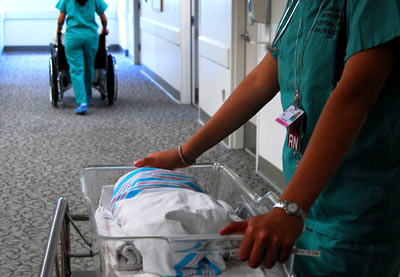 A cool head has served Delia well in the most bizarre and unexpected situations her chosen profession has presented. And even though she's technically not supposed to, Delia said she has delivered three babies in her time at Glendale Memorial Hospital, all by default—the mothers came in, lay down and gave birth too soon for any doctor to be present—and one by an almost unbelievable circumstance in which one woman just couldn't hold her baby in.
"[The baby] came out in her pants," Delia says, chuckling as she recalls the memory. "I'm not kidding you! So there's this bulge in the patient's pants, and I'm holding [the baby] between her legs and saying, 'Okay mom, walk slowly to the bed.' I pulled down her pants and her underwear was still on. The baby went through the underwear and was holding onto mom's leg, crying. Yes, it's true."
Like most nurses, Delia says she has a million remarkable stories—so many that she claims people may not even believe her when she tells them. Mostly, though, her day-to-day routine is just about caring for people and doing what it takes to keep them comfortable, sane and calm, even under the worst circumstances—and even if it means using some unconventional methods.
"We had a patient who was here with twins and it was during the holidays," she says. "So we encouraged the family to decorate the room and put up a fake little Christmas tree and holiday decor. They bought her some antlers. When she went into the operating room, she was really scared. I took her antlers and I said, 'Here, wear these.' It was simple, but it calmed her down. She started laughing and she put her antlers on."
The patient delivered two healthy babies wearing her fuzzy antlers under a hairnet.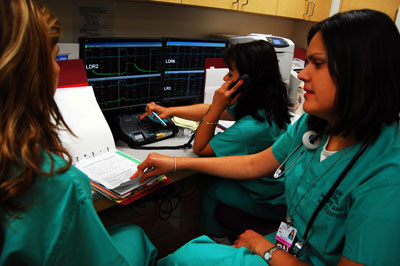 Despite many of Delia's most vivid memories being about her flying solo, she says the team of nurses and doctors she works with at Glendale Memorial Hospital is a large part of why she loves her job so much, and the reason she feels so confident in her scrubs after such a short amount of time working as a Registered Nurse.
"I know even now I can count on them," she says. "If I need help, if a complication arises, everybody is going to jump in. I have nurse friends who are having a really hard time because they don't have the teamwork in their unit, and that makes all the difference. What makes the difference is the support that you have."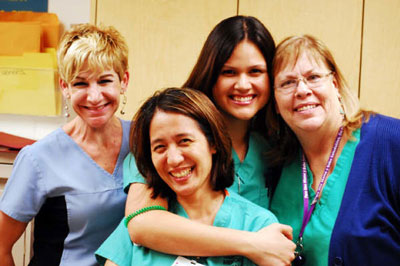 Walking through the Neonatal Intensive Care Unit, Delia passes a nurse sitting in a quiet corner feeding a premature newborn. The two nurses stop to gab a bit and talk about the baby's condition. This little one is going to make it, but not every baby Delia has met has made it out of labor and delivery alive. Fetal demise isn't common, but it does happen, and when it does, it's never easy.
"They say to be strong for the patient, but I think patients appreciate when they can see that you're human, so I've actually cried with the mom," she says. "I'm not going to say I cry uncontrollably, but I'm sad for her…I've shed a tear because I do feel bad for her loss."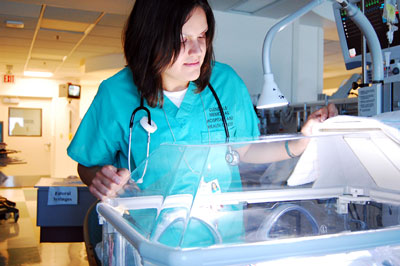 But not all babies born in crisis are a lost cause. When mothers and their babies are rushed to the emergency room or there's a serious complication on the operating table, everyone holds their breath for the newborn to shout out a sign of life. When it comes, there is no sweeter sound.
"You can hear the silence in the room, and when the doctor pulls the baby out and the baby is crying, you can hear everyone let out a big sigh," she says. "Crying is a good thing."
Most of her job is about balancing the sweet with the sour and even though it's almost always busy in labor and delivery Delia says she can handle the heavy work load. She only finds herself slightly frustrated when she has to take a detour from a meal to tend to a patient and says babies have an uncanny way of arriving around lunch time.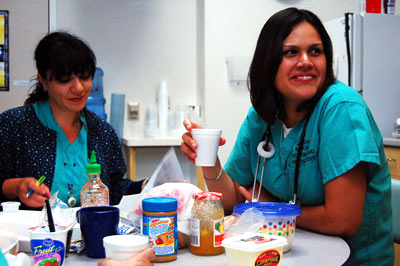 Delia's daily routine is a strange one by most people's standards, and her job is full of contradictions. She wakes up before the sun, spends her whole day comforting total strangers and loves the sound of a baby crying. But despite its sometimes wild and heartbreaking ways, she loves the world of labor and delivery, and says she always will.
In fact, right before she leaves for the day, she proclaims that when she's forced to retire, she plans to volunteer in the hospital for as long as she is able.
"You have to make sure you love what you do," she says, the elevator dinging softly as she steps through the doors on her way back to the outside world. "Because that's the only way you can truly enjoy what we do every day. You have to love it."