The 10 best moments nurses have had on the job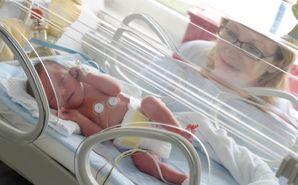 During a shift filled with annoying patients, catty coworkers and not nearly enough breaks, it can be tough to remember why, exactly, you got into nursing in the first place. Luckily, every nurse also has wonderful on-the-job moments—a sincere thank-you from a patient, a warm hug or seeing a child leave the hospital happy and healthy—that make it all worthwhile! We asked our Facebook fans for the best moments they've ever experienced on the job—read on for their inspiring answers, and share your own stories with us in the comments section below!
1. A little boy came into the ER after getting hurt. I asked him if he knew his birthday so I could put his armband on him, and he gave me the wrong year. I asked his mom what his birthday was, and she also gave me the wrong year. I explained that I needed to go and have it fixed with registration, and she whispered to me that he was actually 6, but his birthday had just passed and they didn't tell him because they couldn't afford to throw him a party, so he still thought he was 5. I told my peers in shock and disbelief, and we all pitched in for some toys at the dollar store and a cake, and threw him a party in the ER (we approved this with his mom first, of course). I think out of the 18 years I have been in this profession, singing "Happy Birthday" to this little boy and seeing the look on his face was a moment I will never forget!
—Courtney Kosub-Steitle
2. When I show up for a second or third shift with a patient and he sees me walk into the room, he smiles and says something like, "I am so glad you are back!"
—Colleen Briand
3. When I worked in an ICU, I received report on an elderly man who had been complaining of pain "all day." I assessed the patient, checked his orders and got an order for pain med. Once he was comfortable, he was able to rest. When I went into his room the next evening, he took my hand, smiled at his family and said, "This is my nurse. She is the first person here who has listened to me." I nearly cried. That's just what we do.
—Roslyn Curry
4. Reviving a baby with no or low HR after a difficult delivery and knowing the family will have a chance to watch their child grow because we all did a great job!
—Judy Davis Mathews
5. The best moment I ever experienced was when I was caring for a patient and through talking with her, I discovered that she was my grandmother's hospice nurse and had cared for her during her last few months. It was amazing to be able to give back to someone who had done so much for my family.
—Brooke Colby
6. I was working in pediatrics and had a teenage girl with ortho surgery. It was such a bad day for me, I wanted to quit. The teenage girl called me into her room and presented me with a picture she had drawn of herself trying to climb up a steep, rocky mountain with ME at the top with my hand out to help her. She told me she wouldn't have been able to get through her ordeal without me! We cried and hugged, and I remembered why I became a nurse!
—Donna Doloughty-Joseph
7. I had an elderly widow whom I took care of for a stretch of days. One morning I had time to just sit and talk with her and her daughter for a few extra minutes. I didn't think much of it, but a few weeks later I was surprised when I received a card from her daughter thanking me for my care and for taking the extra time with her mother that one morning. She said her mother was still talking about me and that I would never know what that one conversation meant to her. It made me realize that you never know when you are really making a difference in someone's life. She didn't think of me getting her meds to her on time or the therapy sessions she hated…it was the simple act of taking the time for conversation. I still think of that moment often.
—Johanna Murry Cornett
8. [The best moment was] when the oncologist I work for told me that I could give our patient the wonderful news that his cancer was cured. I will always remember the joy in his voice.
—Liz Wachowski Francis
9. For me, there is never one moment that outweighs another. Being there to hold a dying person's hand when the family is too far away to make it, celebrating a birthday with an elderly patient, helping a resident reach his goal to go home—and being there to see his smiling face when he does—all are priceless and cherished moments of my job and my life.
—Lisa Smith
10. The best moment I have ever had was when an elderly patient told me, "God really knew what he was doing when he made you a nurse." I had to excuse myself from his room to wipe away the tears!
—Anna Verhage Ellis
What's the best moment you've ever had on the job?