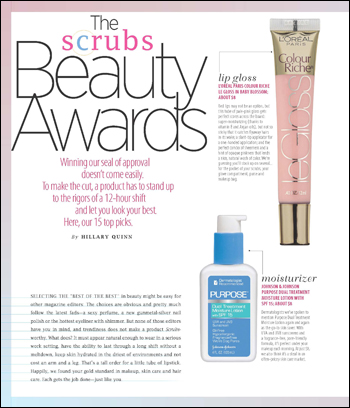 Selecting the "best of the best" in beauty might be easy for other magazine editors: The choices are obvious and pretty much follow the fads from the latest runway collections—a sexy perfume, a new gunmetal-silver nail polish or the hottest eyeliner with shimmer. But none of those editors have you in mind, and trendiness does not make a product Scrubs-worthy. What does? It must appear natural enough to wear in a serious work setting, have the ability to last through a long shift without a meltdown, keep skin hydrated in the driest of environments and not cost an arm and a leg. That's a tall order for a little tube of lipstick.
Happily, we found your gold standard in makeup, skin care and hair care for the Spring 2012 issue of Scrubs. Each gets the job done—just like you.
CONCEALER
Maybelline New York Instant Age Rewind Eraser Dark Circles Treatment Concealer; $10
For most nurses, concealer is a must. If you're pressed for time, it's the one product that does triple duty, banishing blemishes, pinknessand uneven skin tone. And if you've worked three night shifts in a row, there's nothing better to hide the under-eye evidence. Our favorite is Maybelline's Instant Age Rewind Eraser Dark Circles Treatment Concealer for its spongy applicator tip that fills in every nook and cranny, plus its potent, puff-reducing ingredients.
FOUNDATION
Shiseido Sun Protection Liquid Foundation; About $35
At first glance, this blue plastic bottle looks more like a small moisturizer than a big-deal foundation. That's because it's part of Shiseido's Sun Protection line, which means it has SPF 42 and is designed to be tossed into a beach bag. But sun or no sun, you'll love the absolute matte-meets-silky finish you get after applying this liquid makeup. Best yet, it stays put for hours and hours, so when the shift does end and you see the light of day, it's with full protection on your face.
BRONZER
Physicians Formula Bronze Booster Glow-Boosting Pressed Bronzer; about $15
Harsh lighting at work can make a good bronzer a necessity, not a luxury. But it's tough to find one that's not too orangey (you risk looking like a celebrity after a lousy spray-tan job) or too brick red (you get a dirty appearance that makes you want to wash your face). Physicians Formula bronzer is a fine balance—it comes in three shades from light to dark, so you get a natural glow that appears as if you spent your lunch hour outside. The glam compact comes with a hidden brush, but we recommend sweeping it on with a large, fluffy bronzer brush for best results.
POWDER BLUSH
CoverGirl Cheekers Blush in Natural Rose; $4
Powder blushers can be tricky. Some (often, the high-end department store products) are so heavily pigmented that one sweep of your blush brush can leave you looking like a clown. Then you have to blend and blend just to get to an I-can-be-seen-in-public level. Others feature shimmer, which results in a sparkly glow that may look a little cheeky under fluorescent hospital lighting. But this unassuming little compact of powder cheek color—in Natural Rose, a customer favorite—is surprisingly perfect: It delivers just the right amount of intensity, no glamour sparkles and a price that can't be beat.
CREAM BLUSH
NYC New York Color Blushable Crème Sticks in Plaza Pink; $4
There's much to be said for a tube of color that can be used on cheeks, face, eyes and lips, then thrown into a pocket for discreet touch-ups. Which is why we're loving NYC's Blushable Crème Sticks—they're designed to be used as blusher, but twist up these chunky sticks (in six shades; our favorite is Plaza Pink) and you can swipe them anywhere on your face that needs a pop of color. The best part: They have a forgiving sheerness, which means you won't have to blend 'til the cows come home to get a natural look.
MASCARA
LancômeHypnose Doll Lashes Mascara; $25
We love that Lancôme's new Hypnose Doll Lashes Mascara can give you gorgeous, full, shiny eyelashes. Thanks to a great non-clumping formula, as well as a conical brush shape that delivers an extremely smooth application of product to each and every lash, you get dramatic definition without the Kardashian effect. Perfect, because you want to head to work looking good without looking made up, plus there's no need for any fussy shadow or liner (save them for when you're off duty).
LIP GLOSS
L'Oréal Paris Colour Riche Le Gloss in Baby Blossom; about $8
Red lips may not be an option, but this tube of pale-pink gloss gets perfect scores across the board: super-moisturizing (thanks to vitamin E and Argan oils), but not so sticky that it catches flyaway hairs in its wake; a slant-tip applicator for a one-handed application; and the perfect combo of sheerness with a hint of opaque pinkness that lends a nice, natural wash of color. We're guessing you'll stock up on several…for the pocket of your scrubs, your glove compartment, purse and makeup bag.
POWDER
Revlon ColorStay Aqua Mineral Finishing Powder; about $14
Powder is great for setting makeup and is also an ideal stand-alone product when you don't want a full face of foundation. Either way, we love Revlon's ColorStay Aqua Mineral Finishing Powder, a unique formula in a tub (with SPF 13) that delivers a shine-free finish as well as a unique coolingsensation the minute it hits your face. You—and your rehydrated skin—can thank coconut water for that.
NAIL COLOR
Sally Hansen Salon Effects Real Nail PolishStrips; $10
Not only does nail polish not fly at work, but manicures can be time-consuming, expensive and hard to maintain with constant hand washing. When you're in off-duty mode, though, a box of Sally Hansen Salon Effects Real Nail Polish Strips is a great quick-switch that can give you a pro look without drying time or a trip the salon. Available in more than two dozen colors (including Raise A Glass, a really nice, beige-y neutral, which might be suitable in some workplaces), they go on like a Band-Aid:You simply peel the backing, place the strip against your nail and file off the excess. Regular nail polish remover takes them off when you're ready to segue back to the natural look.
HAIRSPRAY
L'Oréal Paris Elnett Satin Hairspray; about $15
If ever there were a hairspray with a cult following, Elnett would be it. Celebrity stylists have always adored this pro product with UV protection because it adds volume and staying power while leaving hair completely comb-able (read: no breakage or snagging). They adored it so much, in fact, that some were filling suitcases with Elnett in Europe (where the spray was exclusively sold until 2008) and hoarding it back home. Thankfully, the popular gold can is now available in drugstores stateside, so there's no need for stockpiling…though you'll likely put it on your must-have list once you see how competently it takes a 'do through a long shift.
SHAMPOO AND CONDITIONER
L'Oréal Paris EverPure Moisture Shampoo and Conditioner; about $7 each
Hospital air can be intensely drying—not just for skin, but also for hair, which suffers as a result (think: frizzy, dull strands). EverPure Moisture Shampoo and Conditioner from L'Oréal Paris does a brilliant job at hydrating parched hair without sulfates, a color-stripping ingredient that's used for increasing lather. Though EverPure rivals the really high-end salon products (you'll see a remarkable similarity to the Kerastase pro line), there's no hefty price tag here.
HAIR ACCESSORY
Goody Simple Styles Spin Pin; about $7
Picture a spiral gizmo that looks suspiciously like a wine corkscrew. Would you believe that just one or two of these babies will hold your hair in a perfect updo for an entire day…and night? It's true! You simply "screw" the Spin Pin (they come two to a pack) into the top of your bun or chignon (for thick or long hair, screw in another from the bottom up). To remove, "unscrew"—no tangles, hair breakage or big plastic butterfly clips. We swear they really work.
MOISTURIZER
Johnson & Johnson Purpose Dual Treatment Moisture Lotion with SPF 15; about $8
Dermatologists we've spoken to mention Purpose Dual Treatment Moisture Lotion again and again as the go-to skin saver. With UVA and UVB sunscreens and a fragrance-free, pore-friendly formula, it's perfect under your makeup each morning. At just $8, we also think it's a steal in an often-pricey skin care market.
NIGHT CREAM
RoC Retinol Correxion Deep Wrinkle Night Cream; About $22
The French have long been on the cutting edge of skin care research, and RoC's Retinol Correxion Deep Wrinkle Night Cream is a great example. Its ingredients are clinically proven to diminish the appearance of significant lines (the company says 10 years' worth—we'll take it, thank you very much); it works while you sleep; and the price sure beats expensive prescription retinoids. Although you might experience a bit of redness or tingling after your first few applications, rest assured that's considered normal…it's just the retinol doing its job.
FOOT CREAM
AmLactin Foot Cream Therapy; $10
Hours and hours on your feet easily add up to dry, cracked, unsightly heels. You might opt for a pedicure, where they pumice the offending skin and slather on moisturizer, and those heels will look normal again—for a day or two. Or keep a bottle of AmLactin on your nightstand. This powerful cream is stocked with a prescription-strength concentration of lactic acid, which (for lack of a better word) eats away at the dry skin, healing your heels better than a $60 pedicure.
Where to Go So You Know…
Listen to the promises of most cosmetic manufacturers and products can do no wrong. But generally speaking, the best, most impartial reviews come from the trenches—consumers like us who rely on the recommendations of friends (and editors!) who have actually used the products and can discuss real pros and cons. One great source: makeupalley.com, a beauty website with a million devoted users who routinely debate the virtues of every cosmetic, skin care and hair care product on the market. Reading the detailed reviews can be almost dizzying (imagine 26 people weighing in on one lip gloss), but if you want true try-before-you-buy advice, this is the place to go.