The 6 most gorgeous hospital cafeterias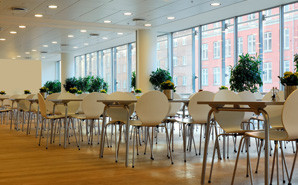 Hospitals get a bad rap for having nasty food. Certainly, the fluorescent lighting, stainless steel fixtures and linoleum floors don't do anything for the presentation. But a number of healthcare organizations are reinventing the hospital cafeteria in terms of cuisine and decor. These cafes look like trendy restaurants and really put the hospitality back into the hospital.
First on the list is this classy joint in Colorado. Their main dining room seats 175 indoors, plus another 50 for al fresco dining in nice weather. They serve patients, visitors, staff and customers off the street every day. In fact, this hospital has learned to increase its revenue by becoming a well-known local eatery. The kitchen was redesigned around the existing stone oven and now includes a variety of focal points such as stir-fry, grill, and sandwich and salad stations. The staff members make a different flavor of fresh gelato on-site every day (and it sells out every time).
Next: Celebration Health →