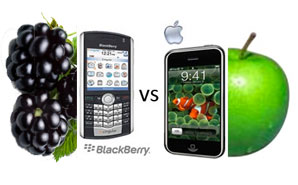 First of all, I'm going to give it to you straight: The future is in smartphones (iPhone, Blackberry, etc).
Smartphones are more cutting edge than handheld computers, and are usually thinner and lighter. They can be used to access a variety of clinical applications that can improve your workplace efficiency.
But if you don't want to have a calling plan attached to your device, you can get an iTouch (you can use any iPhone app with it) or a PDA (my recommendations here).
What are the different types of smartphones, what types of programs are available to help you provide better patient care, and what's my pick for the best overall smartphone? Read on to see!
Pros and Cons of Popular Smartphones
Apple's iPhone
The iPhone is one of the most popular smartphones today. Its sleek design and the large number of applications ("apps") available have made this device immensely popular. Still, some people don't like that you can only get apps from Apple's store, and others dislike that the iPhone is only available on the AT&T Wireless network. The iPhone uses the Apple operating system (OS).
Pros and cons of the iPhone:
Pros: Sleek interface. Thousands of apps to choose from. Good access to a variety of email account types (POP3, Gmail, etc.). This device is very popular right now.
Con: Apps only available through Apple's iTunes app store; larger-size apps require a Wi-Fi connection to update.
Motorola's Droid and Nexus
Several devices have come out recently hoping to unseat the iPhone as the leading smartphone. These include Motorola's Droid and the Nexus, aka the "Google Phone." Both use Google's Android OS.
Pros and cons of the Droid and Nexus:
Pros: Good alternatives to the iPhone for users who don't want to sign with AT&T.
Cons: Not a lot of medical apps written for this OS yet.
BlackBerry
The BlackBerry is a brand of smartphone known for its intuitive design features and outstanding email support in corporate environments. It's marketed to the business power user but has found widespread popularity among personal users as well. There are lots of models of BlackBerry to choose from; one of these, the Storm, has a touch screen similar to the iPhone.
Pros and cons of the BlackBerry:
Pros: Intuitive features (e.g., trackball); can be set up to send a text message directly to a colleague's BlackBerry without going through a network (useful for when you're both inside an area with poor cellular coverage—you can still text each other, even without a network connection).
Cons: Web browser is lacking compared to other smartphones.
Palm Pre and Pixi
Palm Corporation, maker of some of the first PDAs, has reinvented itself recently with a new operating system (Web OS) and some sleek new smartphones such as the Pre and Pixi.
In addition to these, a large number of smartphones made by various manufacturers use Microsoft's Windows Mobile OS. While the phones themselves differ widely in appearance and phone features, the OS is similar and offers a familiar functionality that's been popular for several years now.
Pros and cons of the Palm Pre and Pixi:
Pros: With a new interface and OS, this is a whole new brand of Palm. Palm pioneered the PDA/smartphone concept in the 1990s.
Cons: Old Palm OS apps require a third-party program to run on these new devices; even then, they run in a smaller window within the screen.
So what's my (humble) recommendation for best smartphone ? Apple's iPhone 3GS. Simply stated, this is the phone everyone is trying to beat. It looks great, works well, has loads of apps, and the 3GS model even accepts voice commands and lets you shoot video. With 16 or 32 GB of memory, it'll take you a while to run out of room. [Editor's note: Rumor has it that a new iPhone is being announced in June].
Application for Nurses
A variety of clinical applications are available for these devices. Some are free, some have a one-time cost and others require you to pay a recurring subscription fee. With so many choices, where do you start? I recommend the following types of apps:
A drug reference program. I use mine on a daily basis to check prescribing dosages and indications, side effects, contraindications and drug interactions. Some good drug references include Epocrates and Lexi-Drugs (both available for all major handheld operating systems).
A general clinical reference. My favorite is The 5-Minute Clinical Consult. It's available from several software vendors, including Unbound Medicine and Skyscape. Epocrates and Lexi both offer clinical references with premium versions of their products. PEPID is another good reference suite.
A dosing calculator. MedCalc is a good one that's also free! Some drug reference programs also contain drug calculators.
A general medical calculator. This type of program helps you with a variety of non-drug clinical calculations such as body mass index, pregnancy due date and predicted peak flow.
If you do have a PDA, please read my guide to the best clinical apps for your device.
Writer's note: Smartphones and PDAs come in many shapes and sizes, and finding the one that works best for you is a highly individualized process. Feel free to take my recommendations with a grain of salt.