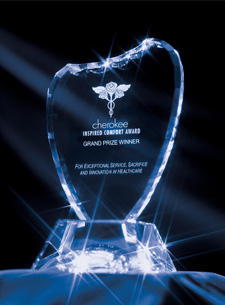 The Cherokee Inspired Comfort award provides nurses, healthcare workers, their colleagues, and the public a national opportunity to recognize exceptional service, sacrifice and innovation.
Since 2003 more than 7,300 nurses and other healthcare professionals have been nominated for the Cherokee Inspired Comfort Award. Recipients of the Inspired Comfort Award are remarkable human beings who lead and love by example.
Their stories stand as testaments to the many others who serve their fellow man without recognition or celebration. We hope you will take time to nominate a friend or colleague. By doing so, you will give the priceless gift of recognition.
Cherokee Uniforms will be accepting nominations for the 2010 Cherokee Inspired Comfort Award beginning March 1 through May 31, 2010. For further information on the award, please visit http://inspiredcomfort.com.
Meet the 2009 recipients:
Be sure to leave a comment for each recipient on their pages here!
Sponsored by Cherokee Uniforms