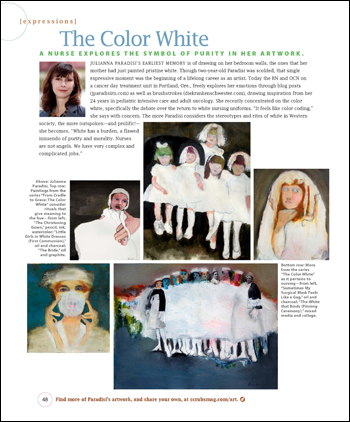 From the Fall 2011 issue of Scrubs
Julianna Paradisi's earliest memory is of drawing on her bedroom walls, the ones that her mother had just painted pristine white. Though two-year-old Paradisi was scolded, that single expressive moment was the beginning of a lifelong career as an artist.
Today the RN and OCN on a cancer day treatment unit in Portland, Ore., freely explores her emotions through blog posts as well as brushstrokes, drawing inspiration from her 24 years in pediatric intensive care and adult oncology.
She recently concentrated on the color white, specifically the debate over the return to white nursing uniforms. "It feels like color coding," she says with concern. The more Paradisi considers the stereotypes and rites of white in Western society, the more outspoken—and prolific!—she becomes. "White has a burden, a flawed innuendo of purity and morality. Nurses are not angels. We have very complex and complicated jobs."