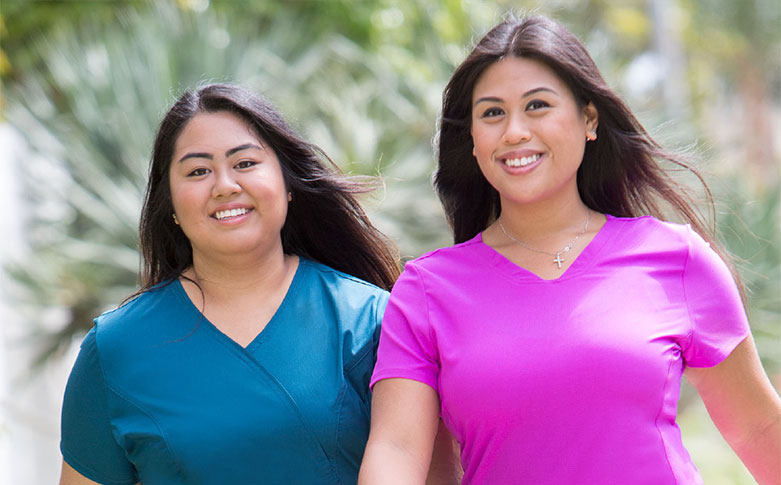 It's a story that many a nurse is sure to recognize: Lifelong friends Rachelle Saturnino, 25, a surgical telemetry nurse at Glendale Adventist Medical Center in California, and Jonnica Buen, 24, fresh out of nursing school, wanted to lose weight—a lot of it. Seeking tangible results, both women had hopped from diet to diet over the years, experimenting with a number of approaches, but to no avail.
Then, they joined forces.
Working together, in tandem with the healthy living program Newtopia for added accountability and support, Rachelle and Jonnica began to experience all the joys of hard work that really pays off. Over the course of just one year, Rachelle has lost 50 pounds and Jonnica, 30. "I'm more confident," says Rachelle. "Even my cholesterol has gone down."
"Some of my clothes that didn't fit do now," Jonnica adds.
Although Rachelle and Jonnica are rightly elated with all the progress they've achieved thus far, there are still several health milestones that have yet to be crossed, and the journey hasn't been a cakewalk.
The demands of the nursing profession have made the pair's shift to a healthier lifestyle particularly challenging. "It's hard to diet and exercise if you're a bedside nurse," says Rachelle. "Twelve-hour shifts are exhausting. You never know what your day is going to be like." In Jonnica's case, "If you're not doing something school-related, you're just super exhausted and trying to catch up on sleep."
And yet, despite the many obstacles that emerge from a full and frenzied schedule, both women have not only made great strides—they're continuing to make them.
To read more about Rachelle and Jonnica's weight loss strategies, check out their story in the Spring 2015 issue of Scrubs.
If you're struggling with weight loss, we likewise encourage you to read up on the corporate health program Newtopia, which offers individual coaching and personalized diet and exercise programs.
See more before and after pictures of nurses who succeeded at losing the weight!
Have you made a significant lifestyle change in recent years? Don't be shy! Tell us about it in the comments section below.