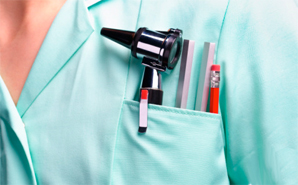 In the September 2009 issue of the American Journal of Nursing, Donna E. Shalala, chairperson of the Robert Wood Johnson Foundation (RWJF) Initiative on the Future of Nursing at the Institute of Medicine, contributed an article on the crucial role of nurses in meaningful and effective healthcare reform. The article reached out to healthcare professionals for "innovative ideas that address important nursing issues, such as the nurse shortage and regulatory and reimbursement barriers to nursing, and which can help transform the way Americans receive care."

In part II of Scrubs Mag's series on the future of nursing, Juanita Flint, RN, shares her innovative idea below:

"I believe that Nurse Practitioners [NPs] are the key to providing quality healthcare to the nation. I'm not suggesting that they take the place of physicians. For more than 40 years, NPs (Registered Nurses who have completed graduate training in the diagnosis and management of a full spectrum of health problems) have been legally authorized to provide healthcare in all 50 states and the District of Columbia.
Today, more than 141,000 NPs are licensed to provide primary and specialty healthcare as well as prescribe medications and therapies, and are reimbursed by all types of insurance plans. NPs fill critical gaps in all areas of healthcare. They are the provider of choice for health promotion and disease prevention services, and are often the only healthcare provider for rural and underserved populations. In addition, NPs are three times more likely to enter family practice than physicians are. Many NPs also have admitting privileges, and are credentialed to provide care to all types of hospitalized individuals from the smallest neonate to the most critically ill elder.

"NPs practice completely independently in 23 states and, in collaboration with other providers, in 20 additional states. Only eight states require that NPs be supervised by a physician.

"Patients have confidence in our services, and it is evidenced by the fact that they seek out NPs for the added value we provide, such as our focus on the patient with a health problem rather than the pathology in a patient, ease of communication, expertise at patient education for self-care management, willingness to collaborate with other providers and seamless coordination of comprehensive care services.

"There are about 12,000 advanced practice nurses in Texas, and they will be called upon to help deliver needed care for the future."

Juanita Zapata Flint, MS, RN, FNP-C, is a Registered Nurse who also serves as Executive Dean of Health and Human Services at Brookhaven College in Farmers Branch/Dallas, Texas. Brookhaven is one of seven individually accredited institutions in the Dallas County Community College District and offers an associate's degree in nursing.