The History of Nurses Week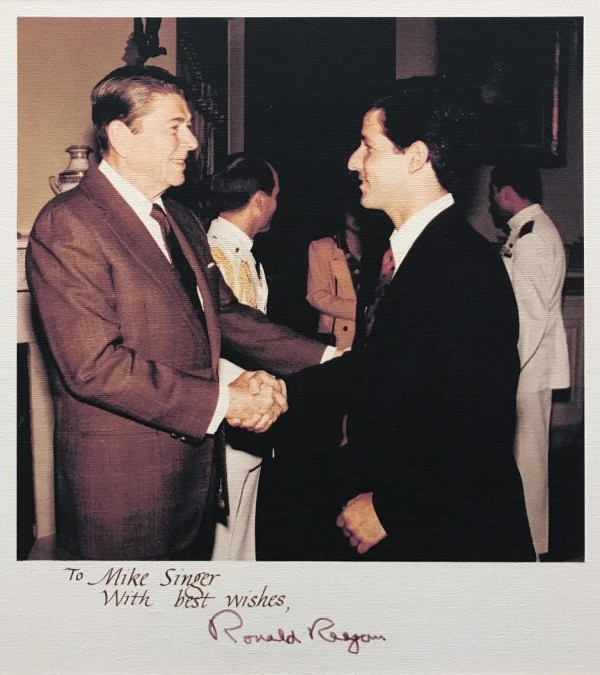 Mike Singer, CEO (Cherokee, Dickies, HeartSoul, Disney, ELLE) greets President Ronald Reagan at the White House in 1988
Nurses Week, as we know it today, started in 1982, when President Ronald Reagan signed a proclamation announcing that May 6 would be "National Recognition Day" for nurses.
Enter now for a chance to win a West Coast Getaway.
The signature from the President formally confirmed a day that had been only periodically observed since the middle of the century. Advocates like the US Department of Health, Education, and Welfare had been proposing a day to recognize the nursing field since 1953. In 1955, a bill was introduced to Congress that would create a nurses week, but no action was taken.
However, the American Nurses Association (ANA) began advocating for a national day to recognize nurses and all of their hard work in the 1980s. In 1982, the ANA acknowledged May 6, 1982 as "National Nurses Day," and the sitting president followed suit, signing an executive order that proclaimed May 6, 1982 as a national day recognizing and honoring the nursing community.
Reagan's respect and appreciation for nurses may have been partly inspired by his brush with death just a year earlier. In 1981, a would-be assassin shot President Reagan, and a team of nurses and surgeons worked through the night to remove a bullet lodged just inches from his heart. A few months after the shooting, Reagan sought out the nurses who had helped him, sending personal thank you notes and words of encouragement. In the Washington Post, a story recounted Reagan's gratitude for the nurses who helped tend to him that night: "Nancy thanks you. God bless you."
The following year, Reagan would sign an executive order announcing May 6, 1982, as a national day of recognition for nurses. Years later, the American Nurses Association would expand the day to a full week honoring nurses and their profession, beginning on the day of recognition and ending on May 12, Florence Nightingale's birthday.Reagan's leadership and advocacy for nurses also had a profound impact on Mike Singer, the Chairman and CEO of Strategic Partners, Inc. (SPI), the manufacturer of Cherokee, Dickies, HeartSoul, ELLE, Disney, ScrubStar and other well-known scrub brands. Singer was inspired by Reagan's dedication and commitment to recognizing nurses and was honored to meet the President during his time in office. Singer's passion for serving the medical field, and Reagan's commitment to honoring nurses and their profession helped further ignite a desire to honor the incredible contributions healthcare workers make to society. This remains a critical component of the mission at Strategic Partners.
Singer channeled that passion and commitment into creating a company that produces the industry's most comfortable, fashion-inspired, functional medical apparel including uniforms, scrubs, labs and footwear that further the healthcare industry through state-of-the-art design, innovation, and sustainability.
SPI's contributions include the development of scrubs with Certainty® antimicrobial and fluid repellency technologies. These revolutionary fabric technologies inhibit and minimize the growth of unwanted microorganisms on the fabric and also resist fluids, causing liquids to roll right off the garment. In essence, Certainty transforms ordinary medical apparel into something very new and exciting.
SPI offers medical apparel, medical footwear, instruments, accessories, and even adaptive clothing (www.Silverts.com) and school uniforms. Their commitment to healthcare professionals extends through the creation and publishing of Scrubs Magazine, their sponsorship of The DAISY Foundation, the Nurses on Boards Coalition and their funding of nursing scholarships.
From everyone at ScrubsMag and SPI, we wish you a Happy Nurses Week. Thank you for your continued contributions to our society's health and well-being!
Sponsored by Cherokee Uniforms