This post is sponsored by Cherokee Uniforms.
It's a hot July in New York. Scrubs Magazine is waiting for the arrival of Katie Duke in the swanky midtown restaurant, Craft. We're here to discuss the Katie Duke Collection, a scrubs collaboration between Cherokee Uniforms and Katie. Katie is a veteran with Scrubs Magazine and a long-term contributor. Debbie Singer, the media director for Cherokee and occasional feature editor of Scrubs, is with us.
For Scrubs Magazine and its readers, the collection has been a long time coming, and one would wonder why it took so long for the collaboration to take place. However, after a slew of celebrity endorsements in the scrubs world from Tooniforms to Baby Phat, the time now feels right and everyone at Cherokee is excited. There's a buzz floating around the L.A. offices, from the designers desk to the seamstress department. Everyone knows her. She's been a staple with Cherokee before influencers were a thing, and despite what some naysayers claim online, she's known as one of the nicest nurses they've ever come into contact with.
It's 7:15 PM and Katie is late, but it's not the New York traffic or a bad hair day that slows her down. We learn when she rushes through the door that she literally ran from work. "I just had an LVAD patient who had a massive GI bleed".
It's a tagline that could go hand in hand with her new collection, simply named "The Katie Duke Collection". For a girl who is about to take the medical clothing industry by storm, she's on the verge of tears. As her eyes well up, she takes a moment to decompress from her day. The stress of losing a human being before you have to go home and act normal isn't easy. Compassion is the number one rule of nursing, and it's this very mantra that doesn't allow for easy detachment. Katie takes it one step further; it's not anything other than heart-warming and one of the reasons Cherokee Uniforms decided to partner with her.
"She's passionate; we've worked with hundreds of nurses, but Katie is a long-time veteran. She knows this industry, its needs, and how patients tick," Debbie confidently declares.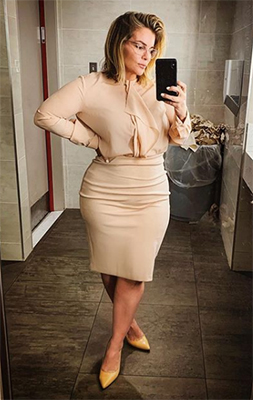 Undeniably fashionable, she doesn't look like a stereotypical nurse either, and we love it. With celebrity scrub lines, the explosion of looking good while caregiving comes as somewhat of an oxymoron. Many nurses aren't there to look good, and stand firm with the old adage that saving lives shouldn't come with lipstick attached. But why not? Looking good in a hospital has been sexualized, which evidently pisses off a lot of medical professionals. But again, why? Hasn't the over-glamorized CEO been sexualized too? Many nurses wouldn't mind dressing up a little, but argue that they don't want to spend money on scrubs simply because of the bodily fluid that will no doubt fly at them during the working day. This, however, is something Cherokee (the master of The Katie Duke Collection) has conquered with its Certainty Technology™. (Certainty is a fluid barrier that's weaved into its scrub lines.)
When you add heart, fashion, and an innate ability to hustle, you get The Katie Duke Collection. We're shown samples, sketches, and of course, the final photography. She's strong, empowered, and confident, and this is what shines through in the design. Again, ultimate traits of this 5-foot woman who stands so tall amongst the nursing community. Without any sponsorship attached to the following statement, "She nailed it," says Harbron. "The color scheme, the function, everything is on point. We had no clue what to expect, but the somewhat toned-down retro vibe is everything we love about fashion right now; it feels very metropolitan, embodying the very heart and soul of New York City – a place that oozes hustle and passion.''
"Hmm, I don't like that sketch so much, but I get it, it's fashion." Another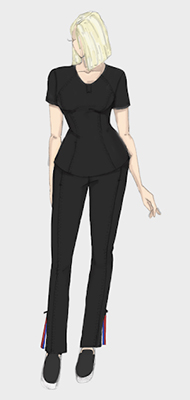 example of Katie telling it how it is. Albeit the sketch looks more Katie circa 2012; her relationship with food is a love/hate battle, she says. "I'm an emotional eater, and to be honest, so are a lot of nurses. I enjoy food, but staying healthy is key for me, and I'm on a personal journey of reconnecting with myself. I want to empower other nurses to do the same; it's too easy to stop at McDonald's on the way home from work, but how our bodies function is key to our mental health." Katie ensures she keeps a fitness regime, opting for more fun exercises such as boxing. An avid cook, she doesn't, however, let the healthy way of living stop her love of food. You can find a lot of Katie's recipes over at her Instagram page, @TheKatieDuke.
Of course, as we order dinner, Katie impressively knows the menu like the back of her hand, but warmingly so – and she's just as familiar with the waitstaff. Her presence is radiating in the restaurant, and everyone loves her. She knows things about the staff that the average patron normally wouldn't know, and we get the feeling that she deposits a lot. The smiles on their faces as she asks questions about their families is endearing. She's the real deal, and it shows.
When she's not working, she's cooking with her family. And when she's not cooking, she's on a train to Washington, D.C. to spend time with her long-term boyfriend. All of this is mashed between regular trips to Cherokee's HQ and Duke it Up events and creating her own side hustle. We get the feeling there's something deeper inside that fuels her, but what is it? Fear? Excitement? The unknown? She seems anxious. A glass of Sauvignon blanc hasn't completely calmed her nerves yet, but it's at least allowed her to begin to calm down from her day.
"Are you kidding me? I'm nervous as hell," Duke retorts. And she should be. As one famous line put it, "A million girls would kill for this job," and Katie's feeling the pressure. All eyes are on her, and while the fashion industry can be cutthroat, this is medicine – and everyone wants her to do well. But that doesn't quell the fear. "This is a big deal; I'm launching a clothing line, and who the hell gets to do that? I'm extremely privileged to be working with Cherokee, and I don't want to let anyone down. But, at the end of the day, I know why I'm here. I'm spreading my message of female empowerment and positivity one scrub top at a time. And let's not forget, I know exactly what a nurse needs in their scrubs."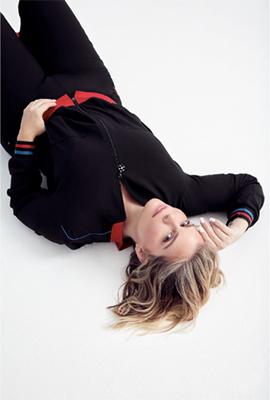 Her road to Fashion Icon, however, wasn't an easy one. Katie lives in a rougher neighborhood of New York City, and while her upbringing was centered around a strong middle-class family unit, her relationships have set her on a course for some dramatic growth shifts. Growing up in St. Louis, Katie's youth started with challenges. She wasn't part of the cool set, skipping prom to hang with a poor choice of friends who would give her validation when the "cool girls" wouldn't. Men in the group would give her the attention she had never received. Ultimately, she gravitated to it.
She would go on to meet a man who charmed her, worked his way into her life, and eventually had her move in to his condemned apartment in the rough South Side. The apartment was a slum; an extension cord ran from his parents' apartment close by to feed the energy they needed to survive. If a bath was needed, 5-gallon buckets would be heated on the stove for hours before one could be drawn, and cockroaches ran around her feet. Her parents weren't happy, which drew a sharp line in the sand between them and Katie. Her priorities changed, and she soon dropped out of college, opting for a $5 per hour job in a sandwich shop to support her addict boyfriend. Six months later the abuse started, and she endured punches, slaps, kicks, and verbal abuse if beer and dinner wasn't on the table. At one point, she took beatings from the boyfriend with construction tools as his weapons.
Looking back on the abuse, a teary Katie reflects, "Your vibe attracts your tribe. Surround yourself with people who love you and cheer you on; this goes for young girls trying to find their way in the world. Do not, and I repeat do not, hang out with people who validate you in the wrong way." Time went on, and one evening Katie was watching TV about a local nursing school. Sitting cross legged on a hardwood floor, she decided to call the school, knowing she was meant for something different. The next night, everything changed.
"This night I had to take our stuff to the laundromat. As I walked back into my apartment, I saw him there with another woman, I lost it."  The 6'2" 190 lb. abuser punched Katie in the face, a lasting effect that would leave permanent damage to this day, one that has left her bone structure damaged. "If you see me trying to take a picture and it's from the left side of my face, I'm not being a primadonna, it's because my right cheek is fucked up and I'm really self-conscious about it."
Her advice to some medical staff in the ER? "Your whispers, looks, and side eyes are noticeable to the young girl who is lost, alone, and scared. The techs, people triaging you, people can be so mean. When I would go into the hospital for my bruises, they would talk shit. 'Why doesn't she just leave him?' they'd say." It's this type of environment and bullying culture that Katie hopes to help change with her line.
After she woke up from the punch in the face, she packed her things and ran back to her parents' house. Does she regret it? "Those are years I can't take back, but I grew from it. I moved to New York and it saved me. Nursing school came to me when I needed it most; it turned my life around."
As we unearth Katie's past, it's clear that this line is about more than just selling scrubs. For Katie, it's a cathartic journey from where she once started, and to her, this is just the beginning.
"This campaign is important to me, because women don't know what their actions and words can do to someone. If you take a minute to empower someone, you can change their life. If I had that, of course, I may not be where I am today, but I still look back on those days and it's shocking how I tolerated it for so long."
Harbron asks if she feels she's made her parents proud. "Yeah, I do, they're proud. When people look at me, they don't see a domestic violence survivor. They see a successful NP with all these great sponsorships and a scrubs line. It's the tip of the iceberg; they don't see what's underneath and what it took to get here. They don't see a younger woman making bad choices, and the journey it's taken. I want nothing more than to show other women that no matter how bad it gets, your situation does not define you. Empowering yourself of your worth and value is my message."
Back to dinner. She orders for us, there's something compassionate about the way she is taking care of us at the table, a typical nurse, even if she does order enough to feed the entire restaurant. Food is a passion, and while we can't really tie in food to her line of scrubs, her attitude toward keeping it real is woven into every piece of workwear.
And keeping it real she does.
She's an Acute Care Nurse Practitioner – board certified by the ANCC. Graduating with an MSN from Columbia University in New York City. Katie famously got terminated, but eventually won a resignation from the Presbytarian Hospital in 2015 after the reposting of an insensitive photo on instagram, that she reposted from a Doctors page. The nursing community all but slaughtered her, agreeing with the hospital's decision.
Nevertheless, Duke stood her ground and remains a key figure in nursing today, appearing on everything from The Doctors to various ad campaigns. She doesn't apologize for it, either. "I need to make money. There's some kind of misconception that nurses can make bank; where are they?" She laughs, (as we do too). But staying true to herself, Katie doesn't promote anything she doesn't believe in. "I won't be pushing a flat tummy tea, or something that just doesn't connect with me. Yes, I need to put food on my table, and if an advertiser wants to connect with me and I believe in the product, you best believe I'm going to do it. You'd do the same."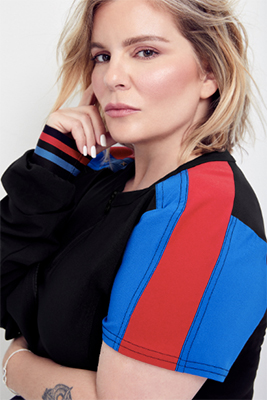 When asked about her goals for the future, it's obvious that Katie is on a mission. "I'm a human being, and I want everyone to feel they can achieve their dreams. Do I want to curb nurse bullying and empower the world? Of course. I'm ambitious; like everyone else, I want to live a nice life and I'm using my know-how in medicine to do it." This brings us back to her scrubs line. Harbron talks to Singer on the collaboration, and why it's the right time:
"We've always thought of Katie when it comes to a scrubs line. Katie has a connection with the real world. She is also deeply involved and doesn't miss a trick, working with our designers every step of the way, from stitching to pockets. She obviously knows what nurses need in the design of scrubs, and no one can knock her fashion sense."
The "Haus of Cherokee" has also been busy, which we feel may be one reason why this hasn't happened before now. Along with the Tooniforms collection, which runs a new print for every Disney movie, the brand launched a flurry of new lines over the past couple of years, from Statement to Infinity. Each production run was massively expensive, with production costs allegedly in the millions. Nonetheless, conversation of the Katie Duke Collection had been initiated during that time.
Katie also sat down with Cherokee Uniforms' long-term head designer, Sallian Song – the two developed something sleek, yet simple. "We wanted to develop a line that wasn't too loud; there are a lot of options out there with bright and colorful patterns, but we had a chance to really develop something big brand with this look – something that epitomizes Katie and her New York style," says Sallian.
As our dinner comes to an end, we know more about Katie than we did before. Her relentless need to ensure that everyone around her is taken care of is admirable, if not perhaps a little energy-zapping to her own self. We can't help but feel that this pint-sized woman will go on to do amazing work, but like any other individual in a high pressured job, self care and love is important; and Katie certainly needs a lot of it.
As far as the line is concerned, we're excited. "It's rare you meet a personality like Katie. She is a dear friend to the Scrubs Magazine family. The line compliments her powerhouse persona to a tee and will resonate with the medical community as something striking, fashionable, and functional. And just like that line, Katie's future is looking bolder and brighter every day," says Harbron.
You can buy the collection online at www.infinityscrubs.com/thekatieduke