The List: Even more nursing schools with high NCLEX pass rates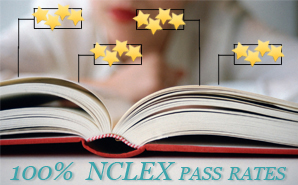 Knowing that passing the NCLEX is one of the foremost concerns on the minds of any nursing student, last week we took a look at five schools that had a 100 percent NCLEX pass rate for first time test takers in 2012. However, there are quite a few more schools with very high pass rates that we wanted to highlight this week.
In fact, there were two more schools with 100 percent pass rates that didn't make last week's list: Western Kentucky is detailed below, and you can find more information on Anderson University in our article on the Top Rated Small Nursing Schools. The rest of the schools on this week's list have a pass rate above 95 percent…not too shabby!
Additionally, if you've already been through nursing school, don't forget to rate your own school or alma mater at The Nurse's Guide to Nursing Schools and leave comments about your personal experience to help out those who may be thinking about following in your footsteps. Got a question about a school? Leave a comment on the school's page, and the Scrubs community will help find an answer.
Western Kentucky University
Bowling Green, Ky.
Western Kentucky University is located on a hilltop in Bowling Green, Ky., which is the third-largest city in the state with a population of around 60,000. With approximately 21,100 total students, the school is the second-largest state university in Kentucky. The school also features campuses in Glasgow, Owensboro and Elizabethtown.
The School of Nursing offers a wide variety of nursing degree programs, including ASN, BSN, MSN and DNP. For the BSN, there is a traditional, four-year program, as well as an RN to BSN and a second degree program. There also is an RN to MSN bridge program.
Louisiana State University Health Science Center
New Orleans
Louisiana State University Health Science Center is one of 14 state universities in Louisiana. With fewer than 3,000 students enrolled, it offers a relatively intimate school experience in New Orleans, particularly when compared to the main LSU campus in Baton Rouge and its 30,000-plus enrollment.
For undergraduates, the school offers a traditional four-year BSN, an RN to BSN program and the CARE Alternative RN Education, which offers an accelerated curriculum in less than two years. On the graduate level, the school offers a Doctor of Nursing Practice, Doctor of Nursing Science, MSN in multiple specialties and an RN to MSN program.
Point Loma Nazarene University
San Diego
Also in a large city, albeit on the other side of the country, Point Loma Nazarene University offers a relatively small student population, with a total enrollment of around 3,500 students. The university has been ranked by Kiplinger's Personal Finance as one of the best values for private institutions in California.
The school only offers a traditional, four-year degree for undergraduates, but does offer multiple master's degree options. These include BSN to MSN programs as well as RN to MSN programs, and Post-MSN Certifications for those who wish to be clinical nurse specialists (CNS).

James Madison University
Harrisonburg, Va.
Moving away from the larger towns of the previous two institutions on the list, James Madison University is in Harrisonburg, a town of around 50,000 located in the Shenandoah Valley in Virginia. The university itself, however, is fairly large with a total enrollment of around 20,000.
The School of Nursing offers a BSN and RN to BSN, as well as a Chronic Illness minor. The latter is available for all students at JMU who wish to understand more about those living with chronic illnesses. On the graduate level, the school offers various MSN specialities as well as a DNP program.
University Of Alabama-Tuscaloosa School of Nursing
Tuscaloosa, Ala.
The largest school on this list, the University of Alabama at Tuscaloosa has a total enrollment of over 33,000 students. Six percent of those major in nursing. Tuscaloosa is the fifth-largest city in Alabama, with a population just shy of 100,000 citizens.
The Capstone College of Nursing offers four-year BSN, second degree BSN and RN to BSN/MSN programs. In addition to MSN degrees, the school also offers a MSN/MA dual degree in conjunction with a Culverhouse College of Commerce and Business Administration. There is also an MSN to Ed.D. program, as well as a DNP.