The List: Top rated workplaces in the South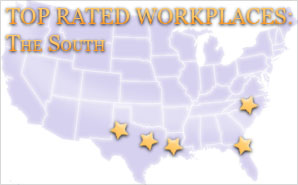 It's time for another installment of the best workplaces around the country according to our Nurse's Guide to Hospitals ratings! This week we're taking a look at facilities throughout the southern U.S. As usual, these workplaces are located in cities that run the gamut of sizes, from Hendersonville, N.C. (with a population under 15,000) to Jacksonville, Fla., which has close to a million residents.
Be sure to check out the other regions we've covered so far:
But this isn't just about checking out the articles; you can make your own mark by visiting The Nurse's Guide to Hospitals and rating and providing comments about your own workplaces, whether you're working there now or have in the past. Even better, if you're looking for a new place to work and have any questions about the facilities, leave them in the comments and the community will help you find the answers.
1. Mayo Clinic
Jacksonville, Fla.
With Mayo being one of the most prestigious names in hospitals, it's no surprise that this is the second time a Mayo facility has appeared on our list. The Jacksonville hospital has 214 beds, 22 operating rooms and more than 35 medical specialties.
Nurses who work at the center can take advantage of the benefits offered by the large, national healthcare system. In addition to traditional benefits, these include tuition assistance for those who wish to continue their education while working.

2. Margaret R. Pardee Memorial Hospital
Hendersonville, N.C.
Like the Mayo Clinic in Jacksonville, Margaret R. Pardee Memorial also is part of a larger healthcare system–in this case, UNC Health Care. The system offers new nurses an 8- to 12-week graduate orientation program, a one-year nurse development skills program and school loan reimbursement, among other benefits.
The hospital itself just celebrated its 60th anniversary, and also recently received a top safety award from The Leapfrog Group.
3. Texas Health Harris Methodist-Fort Worth
Fort Worth, Texas
While Fort Worth has more than 750,000 residents, the population of the Dallas/Fort Worth Metroplex is over 6.5 million, which is the largest metro area in the South. Needless to say, the area is bustling with activity for nurses who desire a wide variety of entertainment and social options outside of work.
Texas Health Harris Methodist-Fort Worth hospital is part of the Texas Health Resource network, which includes 25 hospitals in the area. The main website for the health care system has an online job opportunities section that lists openings at all the workplaces in the area, which provides the choice to work at urban, suburban or rural areas in the same system.

4. Covenant Medical Center-19th Street Campus
Lubbock, Texas
Moving west across Texas, we come to the Covenant Medical Center in Lubbock. The town of nearly 300,000 is something of a college town, and is home to Texas Tech University, Texas Tech University Health Science Center and Lubbock Christian University.
The facility also is the largest health care institution in the West Texas and Eastern New Mexico region. The hospital offers nurses education assistance and tuition reimbursement.
5. CHRISTUS Highland Medical Center
Shreveport, La.
Located in Shreveport, La., the CHRISTUS Highland Medical Center serves a wide area, including northwest Louisiana, east Texas and southwest Arkansas, commonly known in the area as Ark-La-Tex. The population of Shreveport is right around 200,000, and adding in the metro area that includes neighboring Bossier City more than doubles that number.
CHRISTUS is a Catholic healthcare system with facilities in Louisiana, Texas, Oklahoma, Arkansas and Mexico. Highland Medical Center recently started a new Hospital Residency Program designed for nurses currently working in clinics, physicians offices or nursing homes who want to return to work in a hospital setting.