The Nerdy Nurse's top nursing gear picks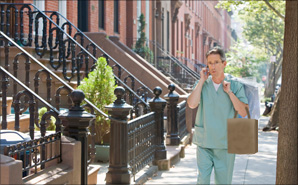 There is a ton of stuff out there for nurses to buy. Whether you're in the market for new scrubs, shoes, a stethoscope, a tote…you name it, you've got options. So how do you sift through the junk to find the good stuff? You don't. You let someone else do it, blog about it then reap the rewards of time saved! Below, you'll find Brittany's lists of top nursing gear from her Nerdy Nurse blog.
10 Best Stethoscopes for Nurses
Find a stethoscope that works well, is stylish and won't break the bank can be tough. It's a good thing that we did a round-up of the most popular ones and have included where you can get a great deal on them.
11 Super Awesome Apps for Nurses
There are hundred, maybe even thousands, of nursing apps available in the Google Play and iTunes stores. We've got highlights on 11 of those so that have an idea of what you're getting before you download them on your smartphone.
Great Gift Ideas for Nurses, Nursing Students, and Nursing Instructors
Maybe you are interested in buying a gift for a nurse but aren't sure what they might like. While every nurse is different, we've developed a list of popular items that most nurses would be glad to get. And the good news is that they won't break the bank!
To see the rest of her top picks, including a breakdown on specific shoes for men and women, head on over to The Nerdy Nurse. Then, in the comments, tell us about your top nursing gear picks!