The new challenge: #KickEbolaInTheButt
Michael Lahoud, a Major League Soccer player from Sierra Leone, has launched a new campaign to raise awareness about Ebola and raise money to stop the spread of the virus. More specifically, Lahoud wants to Kick Ebola In The Butt.
The concept may seem slightly familiar to anyone who saw the Ice Bucket Challenge, only instead of getting a bucket of cold water dumped on your head, you let your friend kick a soccer ball at your rear. If your friend succeeds in hitting you, you donate money to Doctors Without Borders. If the shot is a miss, your friend donates to the group.
Like so: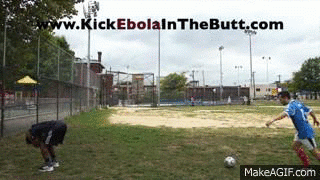 The cause is particularly close to Lahoud, who was born in Sierra Leone, moved to the U.S. at age six and still plays on the Sierra Leone national team in addition to the Philadelphia Union. The campaign is also to raise awareness of how people in the U.S. look at the disease.
"Even in groups of friends, people have looked at me with such disdain when I tell them I have been there and that I go to Africa to play for the Sierra Leone national team," Lahoud told USAToday. "They think I am an idiot. People have said to my face that the U.S. should close its borders. There is so much ignorance. Real humans are dying out there."
For the campaign, Lahoud teamed up with Dr. Thilo Kunkel, assistant professor of Sports Management at Temple University in Philadelphia.
The latest Ebola patient to be flown to the U.S. from Africa has died.
Dr. Martin Salia, a native of Sierra Leone and a permanent resident of the U.S., was flown to Nebraska Medical Center in Omaha on Saturday, according to ABC News. Salia, a general surgeon, had been in Sierra Leone treating patients when he contracted the disease. However, he was not treating Ebola patients. He tested positive for Ebola on November 10.
Salia had no kidney function, had difficulty breathing and was unresponsive when he arrived at the Nebraska Medical Center. He was in "very critical condition," according to Dr. Phil Smith, head of the biomedical unit at the hospital. In addition to other treatments, Salia also was given the experimental drug ZMapp, as well as a blood transfusion from an Ebola survivor.
Salia is the third Ebola patient to be treated at the Nebraska Medical Center, and the first to have died.