Artwork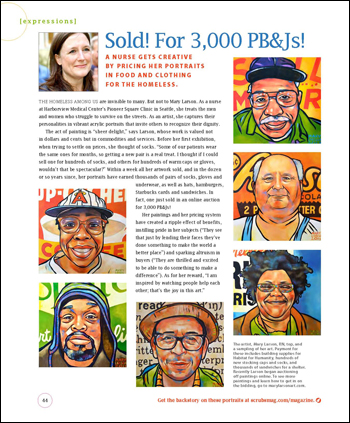 Sold! For 3,000 PB&Js!
The homeless among us are invisible to many. But not to Mary Larson. As a nurse at Harborview Medical Center's Pioneer Square Clinic, in Seattle, she treats the men and women who struggle to survive on the streets. As an artist, she captures their personalities in vibrant acrylic portraits (featured in the Winter 2013 issue of Scrubs magazine) that invite others to recognize their dignity.
The act of painting is, "sheer delight," says Larson, whose work is valued not in dollars and cents but in commodities and services. Before her first exhibition, when trying to settle on prices, she thought of socks. "Some of our patients wear the same ones for months, so getting a new pair is a real treat, and we had just run out at the clinic. I thought if I could sell one for hundreds of socks, and others for hundreds of warm caps or gloves, wouldn't that be spectacular?" Within a week all her artwork sold and in the dozen or so years since she began painting ("on a whim"), her portraits have earned thousands of pairs of socks, gloves and underwear, as well as hats, hamburgers, Starbucks cards and sandwiches. In fact, one just sold in an online auction for 3,000 PB&Js!
Her paintings and her pricing system have created a ripple effect of benefits, instilling pride in her subjects ("They see that just by lending their faces they've done something to make the world a better place.") and sparking altruism in buyers ("They are thrilled and excited to be able to do something to make a difference."). As for her reward, "I am inspired by watching people help each other, that's the joy in this art." (To see more paintings and learn how to get in on the bidding, go to marylarsonart.com.)