Stories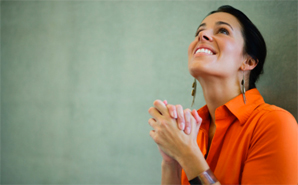 Heart-to-heart with my patient
I was working in a busy ICU one night and I had a one-on-one patient. He was on a ventilator and dopamine and levophed; his blood pressure was in the 40s. I was told in report he would probably not survive through the night. I have heard that the last sense to leave a person is his hearing. I always talk to my patients throughout the shift. I chatted with my patient while I gave him a bath, telling him about my kids and my pets. His wife visited with him and I could tell that his battle was taking a toll on her also. I told the patient that we had done all we could do from our end to help him overcome his illness and that he had to decide to fight, too. His condition was about the same when I left at the end of my 12-hour shift and I never thought I would see him again.
Christmas came around and I was working again on the night shift. A man and his wife came into the unit looking for me. I recognized the lady—she was the wife of that very ill patient. Then I looked at the man, and he smiled at me and handed me a glass Christmas ornament. He told me he remembered my kids' and my dogs' names, and rattled them off without a mistake. He then told me that when I told him he had to fight for himself, he decided to do just that. He told me that he wouldn't have thought about wanting to live until I said something to him. He also said that I gave the best back massage ever!
That's the power of what a nurse can do without expensive treatment or intervention. Talk to your patients—you can make a difference!
Patricia Smith, RN, started as a Nurse's Aide in 1983. She became an LPN in 1994 and an RN in 1995, and has worked in hospitals for most of her career. She currently works as a Telephone Triage Nurse for Methodist First Call in Peoria, Ill., and is also a volunteer firefighter. Patricia has a husband, three kids, three dogs and two cats, and enjoys living in central Illinois.
Next: The odd behavior of a nurse