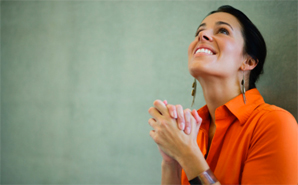 In my early twenties, as a pediatric nurse, dealing with too many children diagnosed with cancer and other dreadful afflictions, I was surrounded by hope. I see it now.
Ten years later, as a daughter of a man dealing with cancer, I believe in hope. Hope that he will be comfortable. Hope that he will be cured. Hope that he will have hope.
As a lover of books, soon after my father was diagnosed I bought him a lovely one. This purchase was solely based on the book cover. It was small and square, shimmery silver and slate blue with my favorite word on the cover – hope. It contained snippets of thoughts from people battling with cancer. Upon further exploration I discovered some of the snippets were not as positive, or as "hopeful" as I would have liked. I never gave it to him. What did I know.
To my surprise, I found the same book on his desks a few months later. It had pages paper-clipped and lines highlighted. Later that cool spring evening I asked my father where he got the book (not living in a metropolitan area with quick access to a bookstore).
"A fellow from the 7th floor waiting room gave it to me," he said. He is probably the one who gets his chemo in the morning and then goes to work for the rest of the day, or maybe it is the guy in a jazz band, whom my mother purchased his CD's for me and my brothers, or maybe the lady (her husband is clinging to life) that gives my mother interesting nutritional recipes my father might like.
I have sat in the 7th floor waiting room many times with my parents. It is a powerful place. Even more powerful is what waits behind a couple heavy doors. Six tan vinyl chairs where every day six brave people sit & receive their chemotherapy. Here in a place where despair could easily take over, hope abounds. I have sat next to my father and listened to their conversations. It is sometimes a surreal experience, considering what is really happening there. While they are being infused with life saving chemicals, that sometimes ravage their bodies, their conversations are thoughtful and kind and real. There is laughter and meaning and love.
One of my parents neighbors was recently diagnosed with a very aggressive type of cancer. My father told me he gave him his little book of hope. But what he gave him was far more powerful than a book. It was my father giving another, regardless of the outcome, the gift of hope. And with hope, anything is possible. Anything.
"The Power of Hope," Copyright © 2006 by Sara Shelton. Part of the This I Believe Essay Collection found at www.thisibelieve.org, Copyright © 2005-2009, This I Believe, Inc. Reprinted with permission.