On October 19, 2019, Jess Wuebker, RN, and her Nurses of Grace team participated in the Making Strides Against Breast Cancer walk in Dayton, Ohio. In a sea of pink, the 11 nurses stood out, thanks to Infinity scrubs, jackets, and shoes generously donated by Cherokee Uniforms.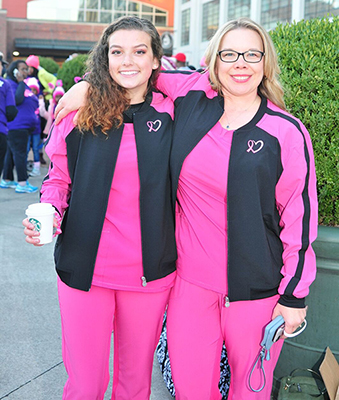 The scrubs tops and pants in carmine pink were set off by Infinity's Breast Cancer Awareness Colorblock Jackets, which feature an embroidered heart and breast cancer ribbon on the lapel.
The team was also outfitted with one of this season's best sellers – Infinity's limited-edition Breast Cancer Awareness athletic shoe. A special version of the popular Fly mesh bootie sneaker, the style features the words HOPE and FAITH emblazoned on the back.
The scrubs were donated by Cherokee and supplied by Affordable Uniforms of Dayton, which has been serving the medical community since 2008. With over 6,000 square feet of retail space, it carries a wide selection of men's and women's medical apparel, nursing shoes and clogs, and medical instruments. Located in Sugarcreek Plaza Shopping Center, Affordable Uniforms is currently Southern Ohio's largest scrubs store.
The custom Nurses of Grace logo embroidery on the backs of the jackets was also a donation – and a labor of love – of Jody Cook of All-Star Athletics. Since 2000, he's been one of Dayton's premier embroiderers, and a master of the craft.
"I started out screen printing," he says, "but customers kept demanding more." Involved in coaching high school football at the time, he did embroidery for local schools before moving on to medical uniforms.
Cook keeps busy perfecting his art. "I always like learning something new." Whether it's different type of thread or new sewing technique, he says he's always looking for ways to tweak his product to make it the best he possibly can.
He also understands the importance of giving back.
"I budget for community stuff and charities I feel are worthy," he tells us. "There are limits to what I can and cannot do, but I always leave a little room for what is important."
This post was sponsored by Cherokee Medical Uniforms. Shop the look at InfinityScrubs.com or your local scrubs store.