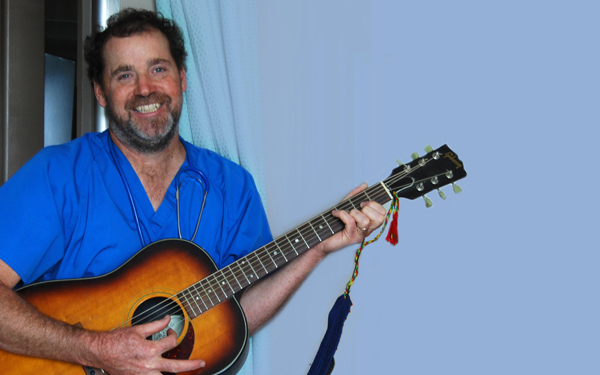 I've always loved to sing. It doesn't matter where I am, there's always a song running through my mind and, quite often, I end up singing it aloud. When I joined Memorial Hospital in 1992, I brought my love of song with me to the hallways, break rooms and, of course, the patient rooms.
You may not think singing can help our patients, but it can. I remember an elderly patient we had who was quite depressed. She was going to be discharged to an extended care facility the next day and one of my co-workers thought she could use a song before she left us. Of course I agreed, but one thing led to another and I just forgot before I left for the day. I was off the next day and knew I would miss her. I thought about it all night.
The next day, I picked up my guitar and went into the hospital—not to work, just to catch her before she transferred. I caught her in time and sang her several songs, and I could just tell that it brightened her day. Later, she even told my director, Kelly Czarnecki, that "a very dear gentleman had serenaded her." That seemed a rather grand way of saying it, but I was glad to hear that I had helped.
It may not seem groundbreaking having your nurse sing to you, but for some of our patients, it's the best part of their day. It's something they can tell their family later, and it's something that makes that day a "good day," even though they are in the hospital. If I can make even one moment better, then I know I'm in the right profession.
Written by Brett Bradley, RN, Memorial Hospital of South Bend, Ind.
Memorial Health System, Inc., established in 1984, serves as the parent company of Memorial Hospital, as well as Memorial Health Foundation, Memorial Home Care, Memorial Health & Lifestyle Center, HealthWorks! Kid's Museum, Memorial Children's Hospital and Memorial Medical Group. These organizations provide a variety of health care services to the community, ranging from inpatient care to home care, medical supplies, pharmacy services and occupational health services, as well as primary care physicians and specialists.
Image by Dan Przybyla and Dayna Bammerlin