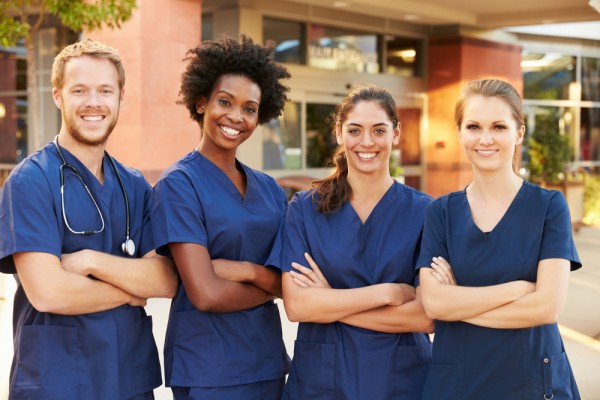 Deciding to become a nurse is more than a career decision, it's a decision about the way you're going to approach life in general. The nurse commitment starts when you first enroll in undergrad classes toward your nursing degree, and it continues throughout your career through retirement and beyond.
The nurse commitment can be broken down into the "three E's": education, endurance, and empathy. Nurses are some of the most educated professionals, undergoing ongoing training and personal career development throughout most of our lives. Like the physicians we work alongside, we have extensive education and training in the biomedical sciences, including both theoretical knowledge about the workings of the human body, and hands-on practical training in administering healthcare.
We also have endurance in spades. Nursing is a profession that is mentally, emotionally, and physically demanding. Between twelve-hour night shifts, life-or-death decision making about patient care, and the emotional experience of caring for a patient and eventually losing them to their age or illness, we deal with a lot of mental and emotional stress. That takes endurance and a lot of it.
Finally, there's also empathy. Nurses are caregivers by nature. We're healers, people who tend to the sick and injured. We work closely with the patients we care for, cultivating a therapeutic relationship that provides emotional and medical support on their road to recovery. To be a nurse, you must have empathy. It's not a job that's well suited to people who are impersonal and cold.
Education
Nurses are highly educated professionals, and most have at least a bachelor's degree. Ongoing education is a central aspect of a career in nursing. As medical techniques and technology grow and evolve, nurses need to remain up to date with the latest new developments.
Many nurses choose to further their education partway through their career. Nurses with bachelor's degrees often end up pursuing a master's, and some even go as far as obtaining their PhD.
Continuing Education
There are a wealth of courses available for working nurses to continue expanding their knowledge and skill sets. Many nurses choose to pursue additional credentialing in specialized areas of nursing. The American Nurses Credentialing Center offers numerous certifications and certification renewals in a variety of areas, including (but not limited to):
Nurse practitioner certifications

in areas like psychiatric nursing, gerontological nursing, and family practice.
Clinical nurse specialist certifications

in areas like pediatrics, psychiatry, and gerontology.
Specialty certifications

in areas like home health nursing, school nursing, diabetes management, community health, psychiatry, pediatrics, and mental health.
Conferences & Seminars
There are also many conferences and seminars in which nurses can participate to gain new insight into the latest new developments in the world of nursing. Many are available as webinars, meaning you don't have to travel to participate in them. The American Nurses Association (ANA) maintains a list of upcoming conferences and webinars here.
Endurance
Nurses also need a whole lot of endurance — mental, physical, and emotional. Nursing is surprisingly physically demanding, keeping us on our feet all day and moving around from place to place. We also do things like help patients from their bed into a wheelchair, which require physical strength.
Nursing is also mentally demanding. We need to make fast, accurate, informed decisions about the course of patients' ongoing care, and in some cases, those decisions are life or death. Many of us are in leadership positions, where we also need to make decisions for our entire teams.
And then, there's emotional endurance. We have to stay upbeat, friendly, and positive, putting our patients at ease even if we ourselves are literally having the worst day ever. And then, there's the experience of losing a patient. Many of us, especially those of us in specialties like gerontology and oncology, have cultivated strong therapeutic relationships with patients who we ultimately lost. All of these things take emotional endurance, the form of endurance that nurses need that's probably the least talked about.
Empathy
Nursing requires empathy. This isn't a profession for cold, mechanical people who don't get along well with others. We have to be able to really understand what our patients are going through, mentally, physically, and emotionally, so that we can provide the best possible quality of care. Many of us work with challenging populations that can make this even more difficult, like patients with severe dementia or with disabling degrees of mental illness.
Embracing the Three E's
As nurses, we embrace the three E's as part of our role in patient care. We're strong people, with endurance that others can only dream of. We're educated to a level far beyond many other types of white-collar workers. And, most importantly, we cultivate empathy and compassion.