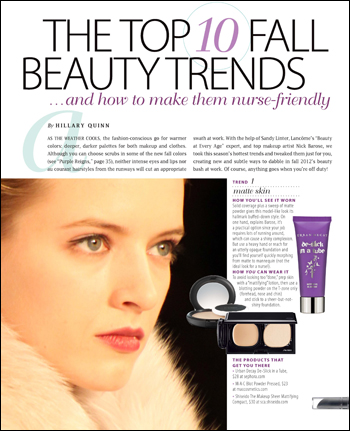 As the weather cools, the fashion-conscious go for warmer colors: deeper, darker palettes for both makeup and clothes. Although you can choose scrubs in some of the new fall colors (see "Purple Reigns," page 4), neither intense eyes and lips, nor au courant hairstyles from the runways, will cut an appropriate swath at work.
With the help of Sandy Linter, Lancôme's "Beauty at Every Age" expert, and top makeup artist Nick Barose, we took this season's hottest trends and tweaked them just for you in the Fall 2012 issue of Scrubs, creating new and subtle ways to dabble in fall 2012's beauty bash at work. And, of course, anything goes when you're off duty!
TREND #1: Matte Skin
How you'll see it worn: Solid coverage plus a sweep of matte powder gives this model-like look its hallmark, buffed-down style. On one hand, explains Barose, it's a practical option, since your job requires lots of running around, which can cause a shiny complexion. But use a heavy hand or reach for an utterly opaque foundation and you'll find yourself quickly morphing from matte to mannequin (not the ideal look for a nurse!).
How you can wear it: To avoid looking too "done," prep skin with a "mattifying" lotion, then use a blotting powder on the T-zone only (forehead, nose and chin), and stick to a sheer-but-not-shiny foundation.
The products that get you there:
Urban Decay De-Stick in a Tube, $28 at sephora.com
M·A·C Blot Powder Pressed, $23 at maccosmetics.com
Shiseido The Makeup Sheer Mattifying Compact, $30 at sca.shiseido.com
TREND #2: Nude Makeup
How you'll see it worn: Cappuccino shadows, beige-y lips, bronzer with pale foundation and lightly tinted cheeks create this barely-there palette. But though nude may sound subtle, it's actually very difficult to achieve with natural results. "The problem with a naked palette is that you can easily look washed out and almost gray," says Linter, who claims that every pore, wrinkle, blemish and dark circle becomes more visible.
How you can wear it: Choose beige tones for shadow, cheeks and lips, but make sure at least one feature "pops" to give your face some punch (e.g., a tiny sweep of darker eye pencil coupled with black mascara). Also important: To avoid the runway "corpse" look, choose a lip color that leans toward pinky-beige rather than a yellow or taupe-gray undertone.
The products that get you there:
Physicians Formula Matte Collection Quad Eyeshadow in Classic Nudes, $7 at drugstores
CoverGirl Queen Collection Eyeliner in Espresso, $4 at drugstores
L'Oréal Paris Colour Riche Lipcolour in Fairest Nude, $9 at drugstores
TREND #3: The Smoky Eye
How you'll see it worn: Thanks to the runway (and maybe a few too many episodes of the Kardashians), the smoky eye has a firm hold in the makeup market. That's especially true this fall, when you'll see the look created with cocoa shadows and lots of smudged espresso liner.
How you can wear it: The trick here is to take the intensity out of the smoky colors by going with a paler, sheerer version of the usual repertoire. In lieu of liquid liner or creamy pencil, dab a tiny, angled shadow brush (the firmer the better) onto the tip of your eye pencil and use what transfers as liner. You'll have the accentuation and smudgy effect without the severe depth of color.
The products that get you there:
Sonia Kashuk Angled Eyeshadow Brush, $5 at target.com
Sephora Retractable Waterproof Eyeliner, $12 at Sephora.com
TREND #4: Bright Red Lips
How you'll see it worn: Lined, defined and semi-matte, this is an über-elegant strategy that takes its cue directly from the 1940s. At the shows, we saw models wearing ruby lips with fair skin and dark brows.
How you can wear it: See-through is the word, says Barose, who advises applying color with a lip brush and sheer lipstick (don't apply the tube directly to your lips; the look is too intense). Next, blot it down with a tissue, so what remains is a simple cherry stain, perfectly appropriate whether you work in a hospital or doctor's office. "After an hour, it will look completely natural—like bitten lips," he explains.
The products that get you there:
Nars Sheer Lipstick in Flamenco, $24 at narscosmetics.com
Maybelline New York Expert Tools Lip Brush, $6 at drugstores
Trend #5: Carved-Out Cheekbones
How you'll see it worn: Hollows are back and bigger than ever, with compacts of brown powder or cream contour artfully applied under the cheekbones to create a sculpted look.
How you can wear it: Skip traditional contour makeup (typically, a pot of high-density brown cream) and sweep no-shimmer bronzer under your cheekbones with a big, fluffy blusher brush—a strategy that delivers just a hint of depth. Barose recommends a touch of sheer highlighter (an almost invisible, paler powder or cream) on the top of the cheekbone to accentuate the shadow below.
The products that get you there:Â
LORAC TANtalizer Highlighter & Matte Bronzer Duo, $32 at ulta.com
Physicians Formula Bronze Gems Matte and Bright Bronzer, Highlighter & Eye Shadow, $13 at drugstores
Trend #6: Green and Blue Eye Shadow
How you'll see it worn: Not for the faint of heart, this new peacock-y palette showcases gorgeous jewel tones of emerald, aqua, teal and azure. Many formulas contain intense shimmer and deliver a metallic sheen to the eye.
How you can wear it: Before you run screaming from the counter, consider choosing a cream formula that you apply ever so lightly with your fingertip. The benefit, according to Linter: You'll get just a sheer wash of color, and creams stay put, so one swipe will last through an entire shift. Alternately, skip the shadow entirely and apply a green or blue pencil to the outer corner of the upper lids, then blend inward with a shadow brush. "The color will be barely noticeable on the lid and has a little more finesse than an entirely lined eye," she explains.
The products that get you there:
Make Up For Ever Aqua Cream in Intense Blue, Turquoise or Emerald Green, $22 at sephora.com
CoverGirl Liquiline Blast eyeliner in Green Glow or Blue Boom, $5 at drugstores
Trend #7: "Old Hollywood" Hair
How you'll see it worn: Super slicked-back ponytails, gelled-up pompadours, extreme parts and severe bangs—they're all part of the highly coiffed style scene this fall.
How you can wear it: The ponytail is a savior when you're pulling a 12-hour shift, and a low, side part— Ã la Lauren Bacall—is entirely doable. Stiff poufs and a forehead fringe, on the other hand, may seem oddly harsh in your hospital scrubs. Instead, try this clever trick that creates instant "bangs" for your buck: Pull your hair into a loose ponytail and let the front drop a bit, creating the illusion of bangs without the commitment or severe silhouette.
The products that get you there:
Emi-Jay Hair Ties, in multiple colors for fall, five for $11; see emi-jay.comto order and for store information
L'Oréal Paris Elnett Satin Hairspray, $15 at drugstores
Trend #8: Intense Brows
How you'll see it worn: Highly defined, shaded-in, full and arched—that's the name of the game in the brow department this fall.
How you can wear it: You'll risk looking like Groucho Marx if you try it at work, the one place where you're trying to avoid extreme anything, and drawing on a strong shape can actually make you look angry or mean. "That's the last thing you want your patients to think!" says Barose. So forget about perfecting your shape, and focus on tinting and darkening instead. This offers definition and a nice frame for your eyes without any overt attention that shouts "BROWS!"
The products that get you there:
M·A·C Brow Set, in three colors plus clear, $15 at maccosmetics.com
Sephora Retractable Brow Pencil – Waterproof, $12 at sephora.com
Trend #9: White Eye Pencil
How you'll see it worn: Noticeably shimmery-white shadow and liner are being swept along the lower lash line and into the inner corner of lids for a super-pale effect that pops against dark mascara.
How you can wear it: Skip the shimmer and stick with a matte white eye pencil—a product that can become your best friend after a long night at work, explains Linter, who recommends buying one in a soft texture for easy application. For an instant wake-up call, apply the pencil to your lower water line (that's the reddish, inner line at the base of your lashes), and watch how the fatigued look seems to disappear. A dab of white on the inner corner of the eye, where dark shadows tend to be most noticeable, will also help perk you up.
The products that get you there:
NYX Slim Eye Pencil in White, $3.50 at nyxcosmetics.com
Wet 'n' Wild Color Icon Brow & Eye Liner in White, $1 at drugstores
Trend #10: Dramatic Lashes
How you'll see it worn: False lashes and salon extensions are bigger (literally) than ever. Combined with smoky liner, they make your lashes and lids look like one big, alluring feature—you don't know where one stops and the other starts.
How you can wear it: Accentuating lashes is a terrific way to mask fatigue and give the eyes some attention without resorting to intensely colored shadow or liner. We're not suggesting nurses wear actual falsies, though! Stick to one of the hot, new false-lash mascaras that do the job in a more covert fashion. They coat, lengthen and define each strand without creating that dreaded spider effect.
The products that get you there:
L'Oréal ParisVoluminous False Fiber Lashes Mascara, $9 at drugstores
Lancôme HypnôseDrama Mascara, $26 at department stores
Purple Reigns
For a head-to-toe refresh, consider adding a pop of color to your fall work wardrobe. Check out the new LUXE by Cherokee tops ($12.50) in "Nu-Grape," a rich shade of vibrant purple, as well as Ice-Watch's cool timepiece in the newest shade, Fig, a plummy burgundy that's fun for fall ($115; go to ice-watch.com for store information).
Sponsored by Cherokee Uniforms