The Top 5 Fitness Facilities in America
2017 has been an awesome year and we've seen a dynamic shift in our content. Amongst the usual issues Nurses and those in the medical field face, fitness and general wellbeing in how you live your life are important to you. Nurses everywhere from Nurse Mendoza, to Katie Duke and our recent collaborations with Lauren Drain are all about getting their fit game on. After all, Healthcare is about providing great care, but also educating our patients, families and friends on the value of staying fit and healthy. Being an active person can help reduce trips to the Doctor, Hospital and other nasties.
I know what makes a good gym. I'm an avid fitness goer, and my partner is a personal trainer. (trust me, I also love pizza, so there'll be a top 5 on that coming soon too)
Roll on to my recent trip around the country where my team and I tested out dozens of fitness facilities in a number of states. Here I present to you the Top 5 Fitness Gyms in America, as ranked by the staff at Scrubs Magazine.
1.  Renegade FitCamp, San Diego, CA.
This bootcamp meets Crossfit is unlike anything we've seen, and has the goods to back it up. They have two locations, Point Loma and Hillcrest, and we heard a third is slated for Pacific Beach. We heard from the owner who works the front desk, that's all in 8 months, and it's not hard to tell why. Fitness expert Jamie Rice heads up the group and combines tactful calculated workouts to produce real results. And we're addicted. When you step inside the foyer, something reminiscent from High School hits you, then the big Renegade flag, the silver high school bleacher benches and on most days, the adorable Pepper French will run up to you for pre-gym pep talks. Step through the door to the camp, and you're transformed into a wonderland of a workout. We started with an explanation of how the class works. A mix of cardio, weights, core and warm down. It feels like a real group effort, we're in it together and felt like we were training with friends.
If you're like us, and worry about listening to take direction then fear not. Once we got on the treadmill, there are instruction cards with three options – beginner, medium and advanced. The cards let us know what pace we should be pushing ourselves, so it was super easy to keep up the pace. At the end of the workout, we were sweating buckets, and we do mean sweating. It felt like a community, like we belonged, and after leaving high fiving every one we worked out with, we said goodbye to Pepper French and couldn't wait to come back. The next day, our muscles left us feeling like Renegades. Click here to get your free three day trial.
2. My Revolution Fitness, Los Angeles, CA.
Scared of doing spin class? You won't be after this. Step into My Revolution Fitness and join the revolution of a live drummer by the name of Tracey blasting away while you spin. We're serious. A. Live. Drummer. It kept us pumping and turning those cycles.
The brain child behind this crazy whacky workout has been on The Biggest Loser and Dr Oz. My Revolution features various classes from Boxing, Booty, Abs to Fusion Core Yoga. Check them out at myrevolution.fitness. They have regular deals so be sure to hit them up.
3. Lifetime Fitness, Scottsdale AZ.
When we landed in Arizona, the first thing we wanted to do was collapse. It was October and in the 90's. Once we picked up our sweltering self off the floor, we started doing the rounds to the local gyms. Arizona is known for it's awesome collegiate and general all round atheleteness (we made that word up), but what seems to be lacking is a decent gym. Scratch that, there's tons of gyms and LA Fitness seems to hold the monopoly, but there aren't that many 'nice' ones. Gyms that you walk into feeling like you're home, you're at a club, you belong. Until we hit up Lifetime Fitness. These guys have a few locations across the country and are fast expanding. The closest comparison in Arizona was The Village, but at $800 just to join? No thanks, Lifetime was for us. We hit up the location on Shea Blvd in Scottsdale, and it was beautiful. The kid in us wanted to just keep going on the water slides (there's 4) but in reality the kids started to complain and so we had to get back to working out.
This gym really has it all, and for $89 a month all inclusive, you can't go wrong. It's a gym done right, and to be honest, a gym that every other gym wishes it could be. Each locker room comes equipped with a steam room, sauna, nice showers and hair dryers, including things like hair spray, gel etc. There's a great hot tub area in the main pool, and the gym floor itself is stunning. Each section of weights and machines are separated out by body part too, so if you want to work your legs, just stay in the row section labeled, legs. Bravo Lifetime.
4. Mile High Run Club, Manhattan, New York.
Deborah Warner heads up this amazing running club that focuses on your entire wellbeing with running. It's not your standard treadmill either. They use state of the art Woodway 4Front treadmills, and if you're a serious runner, you know how these feel a million times different on your feet than standard machines.
What we love about this place, and what kept us coming back, is the recovery afterwards. Most people when running don't think of the warm down period. They run, then stop. At the MHRC, we were taken to a recovery room after our serious session, and given foam rollers with direction on how to warm down and help recover. Hit them up when you're in town.
5. The Club, by George Foreman III, Boston MA.
Yep, it's George Foreman's kid. He's an active fitness expert, and if you didn't know, well now you do. Walking into this place feels industrial, and we weren't sure how we felt about it first. Especially after visiting some of the more 'done up' gyms. It has a raw old school style boxing club feel to it, hence the name, but add splash of neon lighting, real brick and great machinery and you're transported into something that feels very Bostonian.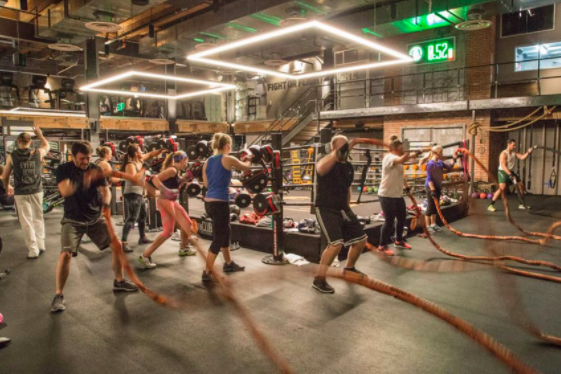 George mixes his boxercise classes with various fighting skills and what seems like a typical boxing ring, couldn't be further from the truth. This place boasts a very nice sauna, locker room and other facilities as well as a shop for fitness goodies and nick nacks. They offer 30 classes a day. If we lived in Boston, we'd be members of this place 100%.
Editor in Chief Michael Harbron visited all 5 locations during Fall of 2017, along with members of the Scrubs Magazine staff. If you feel your local gym should be featured in future fitness articles, let us know below.