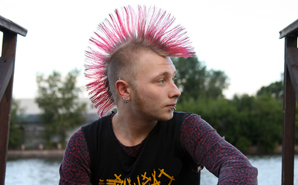 1977 changed me forever. A chubby, relatively normal, gay middle-class Irish boy from the suburbs of Dublin, transformed by the surge of rebellious punk music and attitude. The images of punks with shocking bright hair and deconstructed clothes buoyed me on waves of adrenaline, together we were sweeping away the boring and unimaginative in our culture. I was scared and excited. Those waves of defiance carry me still.
I wore make-up, and even as I bleached my hair, pierced my nose and suffered beatings for being "different," I sensed that despite what many said and thought, this was not "just a phase." I knew, too, that within the walls of my flamboyance was a boy who wanted to be good and do good.
When I arrived in New York City in the mid 1980s, my punk sensibilities segued well with the vibrant city cultures and the heady drunken world of East Village clubs. The fire of rebellion and the embers of compassion fed my outrage at homophobia and my fear and despair in the looming shadow of AIDS.
I staggered along at the peripheries of activism, art and gay life. Still feeling like a rebel — an outsider amongst outsiders — fired up often with equal parts alcohol and idealism, I endured. Lonely late at night, I wished I could do something worthwhile, and become that good boy.
Slowly I did. I legalized my status and entered nursing school. I saw the first of my friends die of AIDS. More restrained in dress but defiant in attitude, I angered easily. I passed my exams and chose to put away the wine. I set foot in a hospital to work.
As I advanced in knowledge and graduated as an RN I felt the world opening up and smiling. I got my first real job working with the critically burned in an ICU. I became a citizen. I learned how to deal with life and death on the front line. I was there that day to receive the burned survivors of 9/11, an honor among such anguish. I became a Nurse Practitioner. I was doing good, but wanted to do more.
So I joined Doctors Without Borders a group considered "rebels with a cause," and edged closer to contentment. I left New York City behind and found myself alone one morning at an airport in Central Africa. I felt 16 all over again, scared and excited.
Now I teach new nurses. We talk of injustice, compassion, politics, spirituality, humor and imagination — subjects I believe you must embrace as a nurse. I try to encourage them to be innovative, to challenge and question authority and above all to be good, do good.
I still have my piercings, I still feel anger when I perceive compassion and imagination are lacking. I still want to "stir things up" occasionally. But I also see the great circle closing.
Punk Rock changed my life and this is not "just a phase" — this, I believe.
John
–
New York, New York
"A Punk-Rocking Nurse," Copyright © 2006 by John Fiddler. Part of the This I Believe Essay Collection found at www.thisibelieve.org, Copyright © 2005-2009, This I Believe, Inc. Reprinted with permission.