The Hidden Person from Time's Person of the Year cover is a Hospital Worker
Over recent weeks, Scrubs Magazine has been covering various sexual harassment cases, both inside and out of the medical field. We know that abuse cases can scar individuals for life, leaving permanent damaging effects on which caregivers, nurses and medical professionals help pick up the pieces. But what about those who are still in fear to come forward?
Time Magazine has published their Person of the Year issue, labeled 'The Silence Breakers' and it should come as no surprise that the #MeToo movement is adorning the cover. What many missed however, is the cropped person to the bottom right.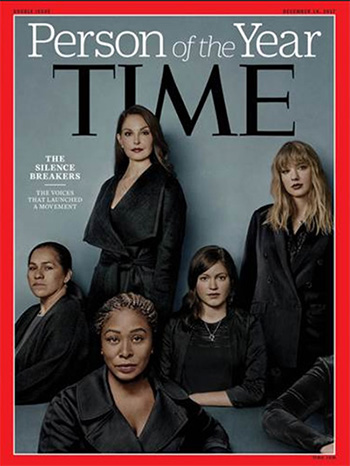 Within it's pages, the cropped woman is identified as a 28 year old mother of two and Hospital worker in Texas. The piece goes on to tell that the woman has been sexually harassed multiple times by a top executive at the Hospital and that numerous complaints have been made to HR. The anonymous victim fears retaliation from her job, and most sadly of all, the small Town she lives in should she come forward.
Time Magazine explains; the image represents many women who are in the same situation. And either can't or won't come forward at this time. Her presence represents 'all who could not speak out.'
Harassment in Nursing
Nurses face a wide variety of harassment in their field, from occupational hazards, i.e. patient to nurse abuse. Or from higher up the chain. The old rule of 'give up your seat to a Doctor' stems from a long history of hierarchy from Doctors dishing out poor behavior to Nurses 'below' them. The phrase 'Nurses Eat Their Young' continues to make the rounds.
Cedars Sinai Hospital is currently facing a suit of it's own. An ambulatory surgery center charge nurse has sued a prominent Los Angeles eye surgeon and the Cedars-Sinai Health System for battery, sexual harassment and discrimination.  Nurse Paula Rickey states she was forced to resign following an incident which was caught on camera.
The suit alleges that Dr Kerry Kouroush Assil came up behind her as she was leaving the OR. He then punched her in the back of the head, infuriated because she'd asked if he was done with his current case, so the cleaning crew could prep for the next surgeon. A month went by, and Rickey plucked up the courage to report the incident to her supervisors. She then discovered it was caught on surveillance and sent this to the Hospitals board of Directors. The decision from the board, was to move Rickey to a new practice, but she also claims she had her hours cut, while Assil's stayed the same.
The suit also alleges that Assil engaged in extra-marrital affairs, and penalized women who did not comply, while rewarding those who did.
Scrubs Magazine has received dozens of messages in regards to sexual harassment at work, if you need help, please contact the National Sexual Assault Hotline on 1-800-656-4673.