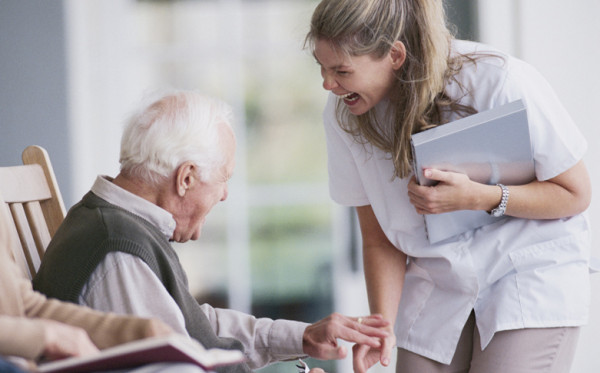 Thanks to the tech-savvy society we live in today, there have been many great advances in technology that are designed not only to assist the elderly and disabled with activities of daily living but also to help their caregivers. There are many useful caregiver products and gadgets that can make day-to-day life easier and safer for seniors and disabled loved ones, thereby easing the burden and stress that many caregivers endure. Following are a few of the best tech items and medical supplies for elderly care and disabled care you may want to consider:
Wearable Tech: Although many of the products in this category focus on fitness monitors, heart rate trackers, and GPS trackers, there are also plenty of health monitoring products, remote patient monitors, and emergency response devices available today. Jonathan Collins, Principal Analyst at ABI Research, states that "Healthcare providers and caregivers alike are looking for devices to improve the monitoring of seniors in their own homes." These devices can be integrated with caregivers' mobile devices and emergency response centers to help monitor the activities of loved ones without compromising their privacy. Those that are simple to use, reliable, and comfortable to wear are dominating the market and include bracelets, watches, and pendants. Depending on the specific device chosen, a variety of activities and vitals can be monitored, from heart rates to locations to falls.
Specially Designed Cell Phones: For those caregivers who worry that their loved ones wouldn't be able to (or want to) learn how to use a cell phone, there are excellent models available that have unique features to make usage as simple as possible. These phones steer clear of small screens and tiny buttons, and focus on simple, straightforward design. Many have extra loud speakers, a bright screen, large buttons (and only a few buttons), and often a one-touch button to dial 911. These phones can be programmed by caregivers and have a variety of options for pre-programming to connect loved ones to family members. These cell phones have proven to be some of the most popular equipment for elderly care at home in recent years.
Automatic Medication Reminders: According to the Preventing Medication Errors report1 by the Institute of Medicine, the average hospitalized patient is subject to at least one medication error per day – you can imagine how this number soars when it comes to the elderly and disabled who are at home and responsible for their own medications. In fact, it's such a big problem that nonadherence to medication regimens is a major cause of nursing home placement2. At an annual cost of more than $14 billion3, 3 million elderly and disabled are admitted to nursing homes due to medication problems each year.
Thankfully, there are several devices available to help people remember to take their pills and not confuse prescriptions, either. There are special timers available, pill boxes with alarms and reminders on them, and even services that will send notifications via phone to people to remind them to take their medications as well as which ones are to be taken. There are dispensers that will dispense all pills on time with one button touch, and other devices that can monitor pillboxes electronically, alerting a responder if the box isn't opened when it should be.
There are more options available today than ever before to help those who are elderly or disabled remain safer and more independent in their homes; with the evolution and advancement of these and many other caregiver products and tech solutions, the stress of caring for and worrying about loved ones can be greatly diminished. In addition to those mentioned above, some of the other tech items available include everything from cover plates for stovetop burners, remote toenail clippers, and doorbell/telephone flashing light notifiers to temperature-activated faucet attachments, and even house-cleaning robots!
The future holds immeasurable possibilities for further advancement in regards to tech products to help caregivers and their loved ones.
Institute of Medicine.Preventing medication errors. Washington, DC: National Academies Press; 2006.
Lewis A. Non-compliance: a $100 billion problem. The Remington Report. 1997;5(4):14–5.
Johnson JA, Bootman JL. Drug-related morbidity and mortality. A cost-of-illness model.Arch Intern Med. 1995;155(18):1949–56.