Top 10 scrubs tops for Valentine's Day
While Valentine's Day may not be everyone's favorite holiday, the day of love does have one major upside (besides chocolate): adorable scrubs tops. No matter your thoughts on celebrating February 14, you still can get in the spirit of love with one of our favorite V-Day-inspired scrubs tops. The best part? They're super versatile, so you can show your love year-round!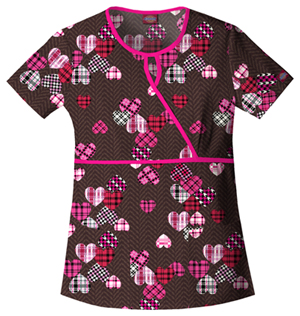 Brown may not be a typical Valentine's Day color, but this plaid, heart-filled top calls the holiday to mind perfectly! The junior fit mock wrap top from Dickies features an empire waist, a keyhole neck detail, bust darts, patch pockets and side vents. (Mock Wrap Top in Plaid to Meet You)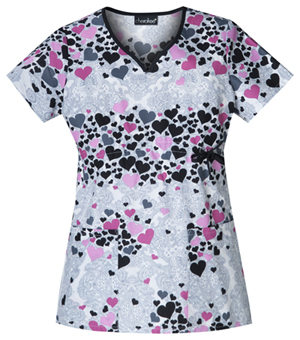 This gray v-neck top from Cherokee features adorable pink and black hearts. The top has neck binding, an adjustable drawstring at side front waist, a back elastic, two patch pockets and side vents. (Lace So Lovely)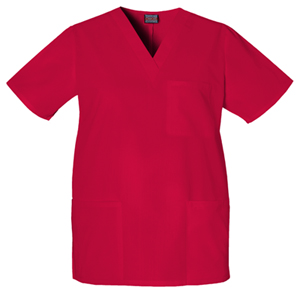 For all the guys looking to spread some Valentine's Day love, this bold scrubs top is a perfect (yet subtle!) nod to the holiday. This Cherokee Workwear v-neck top has one chest pocket and two patch pockets, along with side vents. (Unisex v-neck top in red)
What's more romantic than Cinderella? This Tooniforms round neck top has piping at the neck, an inside adjustable drawstring at the side front waist, bust darts, patch pockets, a back elastic and side vents. (Round neck top in Cinderella)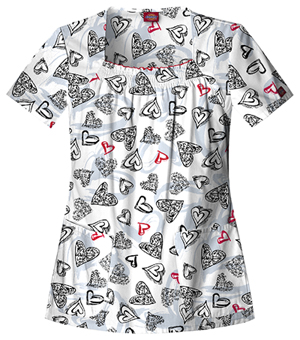 Not a big Valentine's Day fan? This sweet Dickies top is festive yet subtle. The junior fit square neck top features a contrast merrow edge and smocking around the neckline. Also featured are rounded patch pockets, side vents and back fish eye darts to add shape. (Square Neck Top in Can't Hardly Wait)
This Cherokee Runway Collection mock wrap top would look awesome with either pink, white or black scrubs pants, making it really versatile. It features front neck binding and sleeve binding with zig zag stitch, release tucks at the waist and patch pockets. The left pocket has a pencil stitch, the right pocket has a stitched down instrument loop, and the top features a back elastic and side vents. (Suit Yourself)
If red is your color, you might enjoy this Runway Collection sweet Valentine's Day scrubs top. This round neck top with a small keyhole opening features an adjustable drawstring that ties at the side waist, two patch pockets, a third pocket with a button tab and side vents. (A Heart Days Night)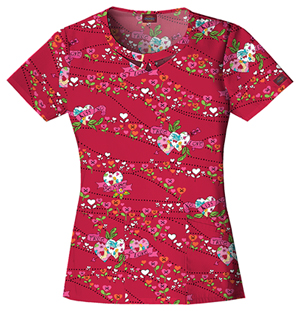 Add some florals to the heart-themed affair! This Dickies junior fit round neck top features a peek-a-boo neckband, four patch pockets, side vents and back elasticized smocking to add shape. (Round Neck Top in True Love)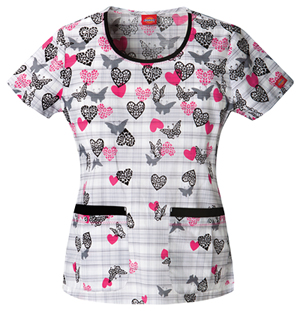 Not so into flowers? What about butterflies?! This Dickies junior fit round neck top features contrast zig zag stitching at the neck and pocket hem line. Front patch pockets feature a pleat and a tacked on decorative button. Side vents and back darts complete this top. (Round Neck Top in Flight of Love)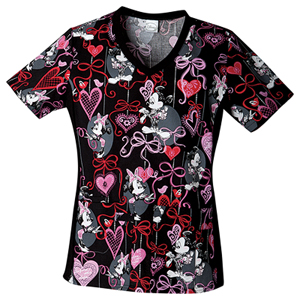 Add a little ribbon love to the holiday with this Tooniforms V-neck scrubs top featuring soft knit side panels and four pockets. Fun bonus? The top has a cellphone pocket with a snap closure! (Before the Date)
SEE MORE IN:
Featured Articles, Scrubs Style, SPI
Want scrubs like these? Find a retailer near you!