A lot of nurses like to pull up important information on apps at work, but what happens when your hospital puts the kibosh on cell phone use on the floor? We've rounded up five of our favorite nurse reference books for you to collect and store at the hospital for whenever you need to look something up quickly…no smartphone required!
1. The A to Z Pocket Emergency Pharmacopoeia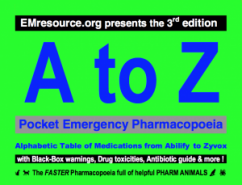 This new book, a 3rd Edition, is both a drug reference and an antibiotic guide. Medications are listed alphabetically in a tabular format that makes it quick and easy to use. Each entry includes dosing, safety in pregnancy and lactation, indications, contraindications and side effects. The empiric antimicrobial treatment and post-exposure prophylaxis sections cover more than 200 infectious diseases. Plus, there are additional sections that cover special patient populations, drug interactions, drug toxicities, sedation, critical care with drips and more.
Nurse review: "The A to Z Pocket Emergency Pharmacopoeia from EM resource.org is an excellent lightweight pocket sized drug reference that covers a vast array of commonly used emergency drugs. This concise drug guide includes not only a breakdown of the dosing, side effects and contraindications of hundreds of drugs but also includes bonuses such as an antibiotic selection chart, multiple drug comparison tables and quick reference tables for resuscitation drugs and cardiac drips. The book's alphabetical layout makes it especially easy to quickly find the information you are looking for. The wealth of information neatly packed into the book's 107 pages is truly amazing. It is especially useful for those working in the Emergency Department or in Urgent Care." – Jenn, Los Angeles nurse
2. Nurse's Pocket Guide: Diagnoses, Prioritized Interventions and Rationales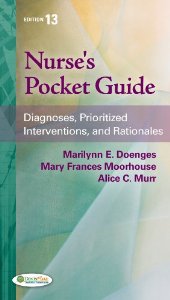 This pocket-sized, quick-reference tool has what you need to select the appropriate diagnosis to plan your patient care effectively. The 13th Edition features all the latest nursing diagnoses and updated interventions. There's also a laminated pocket minder quick reference bookmark to make diagnosis even easier. Davis Nursing Diagnosis and Care Planning Resource Center online features a searchable database with 800 diagnoses, plus a wealth of clinical tools and valuable information for care planning and nursing diagnosis.
Nurse review: "This book has it all. It is not over-sized and carries a lot of information. The information is easy to locate and the rationales are clear and straight forward. It provides more information than a plain Nursing Diagnosis book by prioritizing the interventions and telling you why they are prioritized in that order. I use this book on every patient that I have in my clinical rotation and have not had any difficulties making my care plans." – Laura, Amazon review
3. RNotes®: Nurse's Clinical Pocket Guide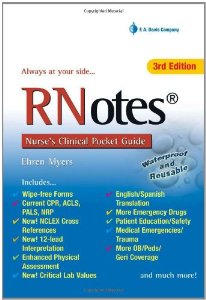 This 3rd Edition continues to provide practical, clinically oriented content for the delivery of safe and effective health care in hospital and home settings. It comes in a handy pocket size with waterproof pages while NCLEX tips, highlighted throughout, make it perfect for those preparing for the licensure exam. Updated with the most recent content, the 3rd Edition gives access to even more of the commonly-used but rarely memorized clinical information that nurses and students need.
Nurse review: "This thing is handy! I pull it out to review fluids and lab values all the time. I find it really useful as a quick study when I'm taking the bus or subway. It's also really useful for case studies when you don't have Internet or your other bulky reference books. " – Kat, Amazon review
4. 2013 Lippincott's Pocket Drug Guide for Nurses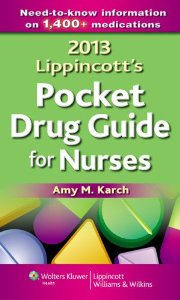 Provides current, vital drug information "in a nutshell for the nurse on-the-go." Based on the popular Lippincott's Nursing Drug Guide by Amy Karch, this handy pocket guide by the same author gives essential information on over 1,400 medications in an easy-access A-to-Z format. The "mini" drug monographs include generic and trade names, drug class, pregnancy risk category and controlled substance schedule, "black box" warnings, indications and dosages, dose adjustments, adverse effects, drug interactions, nursing considerations and patient teaching. Detailed appendices cover topical and ophthalmic medications, laxatives, combination products, contraceptives and biological agents (vaccines).
Nurse review: "The book is very convenient, especially in clinical setting when you want to look up a drug and it's right there in your pocket. I think that's very handy." – Annemarie Machehu, Amazon review
5. Med Surg Notes: Nurse's Clinical Pocket Guide (Nurse's Clinical Pocket Guides)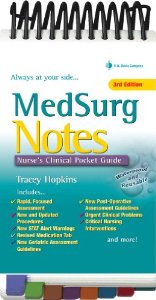 From setting up an oxygen delivery system in a hospital room to administering stat meds, this handy, pocket-sized resource helps you to deliver high-quality care. You'll have on-the-spot guidance you need to care for patients with complex medical-surgical conditions from focused assessments, immediate interventions and follow-up care for patients who develop complications–all presented from the nurse point of view. The 3rd Edition has been completely revised, updated and expanded to deliver all of the current information you need.
Nurse review: "Love this little book! Info is organized by body system and common signs and symptoms. Great approach because it's just like a real clinical — you walk in the client's room and assess their signs and symptoms and you have to act! This makes sure you remember everything. It tells you what to do first, what to assess, what to get ready to do, etc., depending on the signs and symptoms. Also includes how to do focused assessments for each body system, how to analyze ABGs, how to manage chest tubes, what type of isolation to use etc etc — all the stuff you forget unless you do it all the time." – Kepndion, Amazon reviews
Do you already own any of these books? Got any other suggestions for tomes nurses should keep handy? Let us know in the comments!