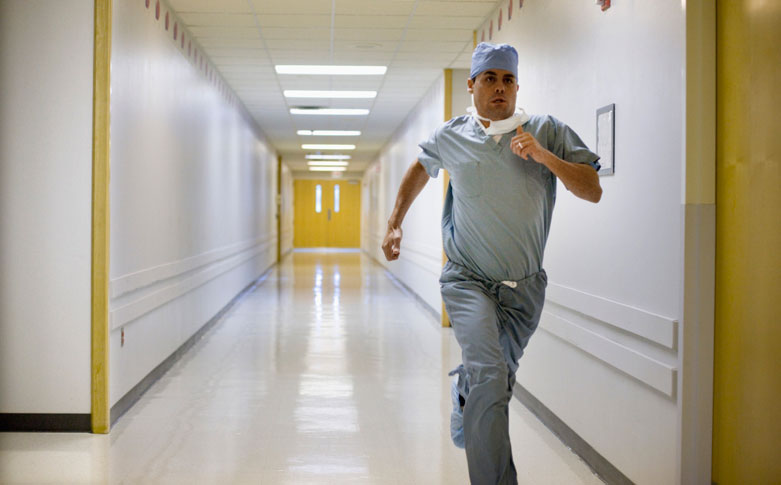 Image: Fuse | Thinkstock
Wendy Dougherty, charge nurse in the neonatal intensive care unit at Cook Children's Medical Center in Fort Worth, Texas, would come home from a 12- to 13-hour shift with next to no patience and no energy to spare. Going straight from her work-job to her home-job, she never got the chance to unwind. Back and forth, the pressure mounted everywhere, and the stress cycle was in full swing.
Stress is ubiquitous in nursing—let's face it, it's part of the job description—so it's easy to write off as something you just have to live with. "The only prevailing nursing model we have in American hospitals is FRED: frantically running every day," says Lillee Gelinas, RN, vice president and chief nursing officer at VHA, a national alliance of 1,445 hospitals. "Medical surgical units, labor and delivery units—all units—I see stress going up."
Yet even if stress—whether from work, family, friends, a shaky economy or some combination of the above—comes with the territory, it's not something to ignore. "Unattended stress results in 'stress pile-up,'" says Dr. Michael Groat, a psychologist in the Menninger Clinic's Professionals in Crisis program in Houston, Texas. Some nurses end up quitting jobs they love; others become so fatigued they make errors; and there are those who resort to substance abuse. Many actually become sick—chronic stress not only can lead to high blood pressure and depression, but also inhibits the body's ability to fight off bacteria and viruses, making you susceptible to all kinds of illnesses.
"With nursing's emphasis on taking care of other people, it's easy to neglect self-care," says Dr. Groat. Getting enough sleep, exercising regularly and eating right are the basics. Beyond that, there are strategies that can reduce the stress in your life and help you cope better. Here are some solutions for stress relief and healthier living, culled from experts in the field and nurses on the front line.
Take Control
"The primary factor leading to burnout in any profession is a sense of lack of control over one's working environment," says Alicia R. Ruelaz, MD, associate director of psychosomatic medicine at Cedars-Sinai Medical Center in Los Angeles. In nursing, that feeling can be unduly stressful. Her recommendation: Know thyself.
Go through a day or two noticing which aspects of your job give you energy and which drain it. Do what you can to seek out the former and avoid the latter. For example, if you enjoy training new nurses, supervising nurses' aides or keeping supplies stocked, see if your manager will let you incorporate more of those duties into your schedule. Talk to colleagues, too. One of them might enjoy and want to take on—or at least exchange—a task you'd like to give up.
Perspective, Perspective
For Lisa Roundtree, a labor and delivery nurse in Oceanside, Calif., stress comes from being where people arrive healthy and are expected to leave, with their babies, just as fit as when they came in. "When something bad happens, it's very bad, and that can leave me overwhelmed."
"Medical training emphasizes divorcing yourself from the emotional side of medicine, yet most nurses go into nursing because they have an incredible amount of compassion," says Jennifer Edwards, a stress-reduction educator, founder of the New York City-based company Relaxation on the Go, a writer and master teacher focused on sustainable stress reduction, as well as the daughter of two nurses and the ex-wife of another. "If you put up a wall and don't show up emotionally for your patients, you're counteracting your natural inclinations." That can provoke stress. The trick is to find your own emotional balance—not bottling up your emotions, but not letting them overwhelm you, either.
For Roundtree, that means maintaining perspective so there's no stress pile-up: "Trying to save somebody's life, yes, that's stressful. Trying to get two kids into the bath is not the end of the world; it's just annoying."
Lighten Up
Nursing at a long-term care facility was one of the most difficult jobs Sandra Seddon, a nurse of 36 years, ever had. "We had no equipment, no positive reinforcement and worked with a lot of people who didn't want to be nurses. I'd come home crying," says Seddon, now a hemodialysis nurse in Summit, N.J. Her life raft, then as now: making jokes. You don't have to be Sarah Silverman or Tina Fey to see the light side of a situation.
"When you can shrug off mistakes and say, 'Well, that didn't work,' then chuckle and move on, it's going to help," says Dan Diamond, MD, a family physician in Silverglade, Wash., who is also president of Powerdyme, a company that helps teach medical personnel coping skills. As director of the Medical Triage Unit at the New Orleans Convention Center after Hurricane Katrina, he saw, up close and personal, what it's like for health care workers to be placed under enormous stress. "Our triage team was serious about what we did," he says, "but our mascot was a rubber chicken."