Upcoming books, shows and movies featuring nurses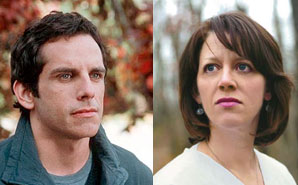 Culturally speaking, this was a banner year for nurses in America with the premiere of no less than three nurse-centric TV shows: Nurse Jackie, Mercy and HawthoRNe.
And who could forget Lenny Kravitz's endearing role as a male nurse in the critically hailed movie Precious?
Here are just a few places where nurses are turning up next.
Movies
America's favorite male nurse returns in the form of Ben Stiller in Little Fockers, which is currently in post-production and is scheduled for a December release. The sequel to the hilarious Meet the Parents and 2004's Meet the Fockers catches up with Greg Focker ten years after first meeting his tough-as-nails father-in-law, Jack (Robert DeNiro). Greg, now the father of a pair of twins, has taken a moonlighting job with a drug company to make ends meet, and has to prove to his in-laws that he has what it takes to be the next family patriarch.
We recommend getting your friends together before the premiere and having a 'circle of trust' refresher party:
Television
Hold on to your remotes: The CW currently has a new reality TV show in the works called Cali Nurse. The series is the newest project from the creators of Project Runway and the CBS mega-hit Undercover Boss. According to the show's production website, Cali Nurse is "a light-hearted, sexy docu-series that follows a group of young nurses and nursing students as they experience comedy, romance and fun. The girls will eat, sleep and live together while we watch what unfolds at the house, at the hospital and in their social lives."
Books
Theresa Brown, the English teacher-turned-nurse who is a contributor to the New York Times "Well" blog and an Advisory Board Member of Scrubs magazine, has authored her first book, Critical Care: A New Nurse Faces Death, Life and Everything in Between. The book is a lyrical account and medical memoir of a nurse's first year in the ward. The hardback edition can be found on Amazon.com; the paperback edition is due out in 2011.