Video: New Zealand nurses parody "Gangnam Style"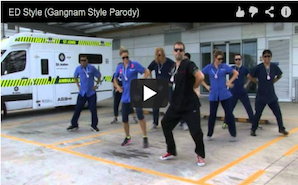 Image: Youtube
Happy Friday! Time for a critical question: Are you tired of "Gangnam Style" yet? We're hoping your shaking your head because the Emergency Department at Waikato Hospital in New Zealand has come up with something that will have you horse-y dancing in your clogs.
Hospital assistant group manager Kevin Harris adapted the lyrics from the Youtube sensation "Gangnam Style" into "ED Style".
"To reach busy staff, sometimes you need to think outside the square," he said. "It's a light-hearted video but the serious message is that we need close cooperation between Emergency Department, specialty doctors, wards and support areas to reach the Ministry of Health 6 hour target for Emergency Department waiting times. It was a lot of fun and they really entered into the spirit of it – and it's brought the team closer."
Pick up your reins and click play below!