Video: Medical web series has us LOLing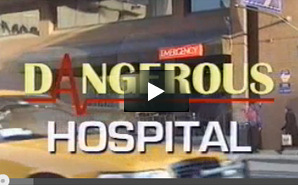 youtube.com
Sometimes, when you're feeling particularly stressed and need a smile, it doesn't hurt to fall into the black hole that is YouTube…especially when you come across pure nurse's treasure.
Have you heard of Dangerous Hospital?
We'll let them pitch their own show: "Meet the staff of St. Judas Hospital. Dr. Sullivan loses every patient, Dr. Cutter's in it only for the money, Dr. Morgan is a voice of reason in the insanity, Nurse Moody is just that, and Mr. Lee – the orderly – is a wacko."
The web series, created by Dave Manstream, has an amazing 14 episodes (that's almost two hours of viewing!) and pulls in an impressive number of clicks. Manstream says he got inspiration for the episodes from Shameless, a series which aired on MNN from the late 90s to early 00s. In fact, he says "DH was blatantly ripped off by a critically acclaimed, viewer-deprived network series without permission." Ha!
Has anyone seen either show? Thoughts? If you haven't, be sure to click on the first episode embedded here, and then keep clicking through to the next episode if you enjoy it. We'd love to hear what you think in the comments below!