Video: Nurses make a Lady Gaga video!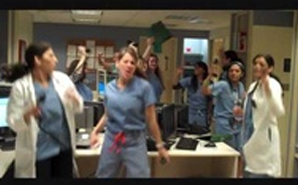 Post-call nursing interns at Boston Hospital got together one night to blow off some steam Lady Gaga/Beyonce style. Check them out lip synching to the song "Telephone" while acting out annoyance at having their phone blown up!
Be sure to do a little light stretching before clicking "play" because you're going to find yourself chair dancing along as these nurses bounce around the hospital (The guy playing the patient? So awesome). It's so nice to see a video like this that shows the fun and lighthearted side of nurses and nursing, something that's often buried under all the seriousness of the job. Take a look:
The video was put together for Boston Hospital's annual intern skits (awesome program!) and was shared web-wide in 2010 (yeah, so, we're a little late to the party).
Do you have any awesome nursing videos hiding up your sleeve? We'd love to see them! Hit the comments with your funny finds.