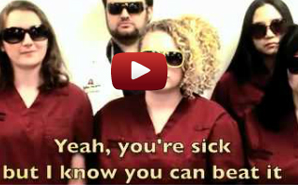 @FunnyNurse on Twitter
We were totally TKOed by this hilarious music video posted by @FunnyNurse, "I'm Gonna Be a Nurse" that spoof's LL Cool J's 90s rap, "Mama Said Knock You Out"! The low budget vid was shot by real life nursing students in Los Angeles who are just wrapping up school (err…no pun intended). While some of the lingo might be lost on non-nurses, you'll love the insider-y student humor and even helpful lyrics:
Observate then palp-a-pate!
Percuss you suckas
Then auscultate!
Congrats to the grads! Hit play below and let us know what you think — anything ring a bell?