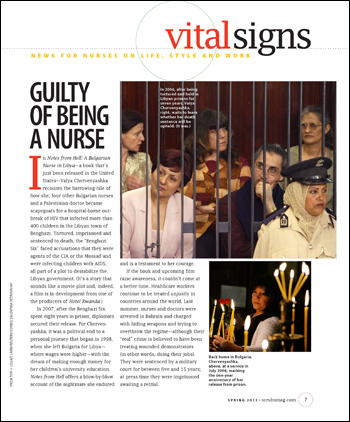 From the Spring 2012 issue of Scrubs
A Nurse's Story
In Notes From Hell: A Bulgarian Nurse in Libya—a book that's just been released in the United States—Valya Chervenyashka recounts the harrowing tale of how she, four other Bulgarian nurses and a Palestinian doctor became scapegoats for a hospital-borne outbreak of HIV that infected more than 400 children in the Libyan town of Benghazi. Tortured, imprisoned and sentenced to death, the "Benghazi Six" faced accusations that they were agents of the CIA or the Mossad and were infecting children with AIDS, all part of a plot to destabilize the Libyan government. (It's a story that sounds like a movie plot and, indeed, a film is in development from one of the producers of Hotel Rwanda.)
In 2007, after the Benghazi Six spent eight years in prison, diplomats secured their release. For Chervenyashka, it was a political end to a personal journey that began in 1998, when she left Bulgaria for Libya—where wages were higher—with the dream of making enough money to finance her children's university education. Notes from Hell offers a blow-by-blow account of the nightmare she endured and is a testament to her courage.
If the book and upcoming film raise awareness, it couldn't come at a better time. Healthcare workers continue to be treated unjustly in countries around the world. Last summer, nurses and doctors were arrested in Bahrain and charged with hiding weapons and trying to overthrow the regime—although their "real" crime is believed to have been treating wounded demonstrators (in other words, doing their jobs). They were later released on bail and, at press time, were scheduled to be tried by a military court.
Designing Nurses
If you've ever tried maneuvering beds around awkward corners, noticed that there's no logical place to store equipment (where are these extra IV poles supposed to go?) or had to deal with noisy machines placed exactly where their racket blocks out things you need to hear, you may have cursed an architect or two. "Nurses are rarely at the table giving input on the design of their work environment," laments Debbie Gregory, RN, a nurse and interior designer who's trying to change all of that. Gregory is cofounder of the Nursing Institute for Healthcare Design (NIHD), a nonprofit dedicated to bringing nurses into the design process so hospitals and other medical settings serve everybody better—especially patients.
Before going back to school for interior design, Nashville-based Gregory spent 25 years as a nurse. Now she spends a good deal of her time helping to educate other nurses about design and construction, and providing them with tools and mentoring so that they're able to collaborate with designers of clinical spaces. "Nurses are on the frontlines," says Gregory. "They know the work flow and have perspective on what's best for patients and their families."
Now there's some evidence that the idea is getting across: More architecture firms are hiring nurses to be part of their teams, and many healthcare systems are adding nurses to facility planning and construction departments. Hospital design may get smarter yet. For more information, check out the NIHD website, nursingihd.com.