News for nurses from winter 2013: Two thumbs up for two nurse movies, and more!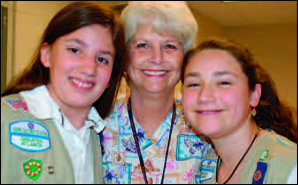 This New Year's Day, millions of television viewers the world over will watch a moving tribute to nurses when A Healing Place floats by at the annual Tournament of Roses Parade, held in Pasadena, Calif. The floral display on wheels honors Sally Bixby, RN, the president of this year's event, and nurses everywhere. The float will feature a forest's worth of animals—including a deer, an owl, a raccoon, a squirrel, birds and butterflies—all chosen as metaphors for the care, wisdom and conscientiousness that nurses bring to the job. To learn more about Bixby, to donate to the project, or to get a sneak peak of A Healing Place, go to flowers4thefloat.org.
Scouts' Honor Nurses
Mary McQuade and Madison Henry were looking for a project when they happened to be skimming the North Cobb High School (Georgia) PTA newsletter. There amid the usual updates was a plea for supplies by the seriously underfunded school nurse, Susie Gantt. McQuade and Henry had found their cause: They went on to collect money and supplies for Gantt and even fostered a partnership between the school nurse and a local pediatrics group.
Did we mention that the girls are about to start seventh grade? They won't even be attending North Cobb until 2014.
The impetus for McQuade and Henry's philanthropic efforts was the impending Girl Scout "Silver Project," a community service requirement that involves 30 hours of work. Musing on their selection, McQuade says, "Nurses are often overlooked in schools." Henry adds, "We wanted to increase awareness." The two Girl Scouts distributed flyers in their neighborhoods, which yielded more than 100 supplies, including bandages, gauze, tissues, Ziploc bags, juice boxes and snacks. The girls made get-well cards for Nurse Gantt to give patients—and got Wendy's to throw in a coupon for ice cream. McQuade and Henry also held a bake sale at a troop meeting, which raised a cool $50.66.
The best thing about the project? "Madison and I became very close friends," says McQuade. It also gave the girls some insight into the kind of careers they might like to have. "I was thinking of being a teacher, but now I think I want to be a veterinarian," says Henry. "We both like helping others."
How Would You Define a Nurse?
"Professionalism, commitment, competence and passion are all key qualities of a good nurse. When these characteristics are exhibited with high standards, combined with a joy in caring for others, they result in a person who will forever change the lives of those they come into contact with."
—Brenda Brage, one of three winners of the Nurses of Tomorrow scholarship competition sponsored by Medical Solutions, a travel nursing company