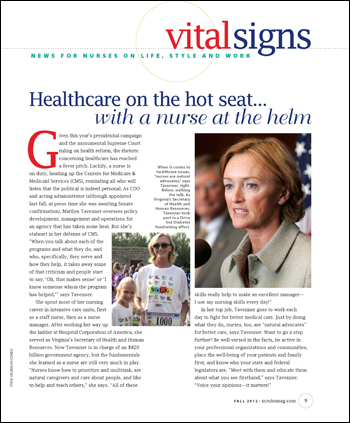 From the Fall 2012 issue of Scrubs
Healthcare on the Hot Seat—with a Nurse at the Helm
Given this year's presidential election and the monumental Supreme Court ruling on Obamacare, the rhetoric concerning healthcare has reached a fever pitch.  Luckily, a nurse is on duty, heading up the Centers for Medicare & Medicaid Services (CMS), reminding all who will listen that the political is indeed personal. As COO and acting administrator (although appointed last fall, at press time she was awaiting Senate confirmation), Marilyn Tavenner oversees policy development, management and operations for an agency that has taken some heat. But she's stalwart in her defense of CMS. "When you talk about each of the programs and what they do, and who, specifically, they serve and how they help, it takes away some of that criticism, and people start to say, 'Oh, that makes sense' or 'I know someone whom the program has helped,'" says Tavenner.
She spent most of her nursing career in intensive care units, first as a staff nurse, then as a nurse manager. After working her way up the ladder at Hospital Corporation of America, she served as Virginia's Secretary of Health and Human Resources. Now Tavenner is in charge of an $820 billion government agency, but the fundamentals she learned as a nurse are still very much in play. "Nurses know how to prioritize and multitask, are natural caregivers and care about people, and like to help and teach others," she says. "All of these skills really help to make an excellent manager—I use my nursing skills every day!"
In her top job, Tavenner goes to work each day to fight for better medical care. Just by doing what they do, nurses, too, are "natural advocates" for better care, says Tavenner. Want to go a step further? Be well versed in the facts, be active in your professional organizations and communities, place the well-being of your patients and family first, and know who your state and federal legislators are. "Meet with them and educate them about what you see firsthand," says Tavenner. "Voice your opinions—it matters!"
Project (Nurse) Runway
Move over, Heidi Klum! Last year, 22 junior fashion design students at Pratt Institute in New York City entered "Designing for a Difference: New Approaches to Hospice Uniforms," a competition that charged them with creating comfortable, professional clothes for nurses. The winning design—lightweight pants, a top and lab coat by Hannah Ross—is slated to go into production this fall for nurses on the inpatient hospice unit of Visiting Nurse Service of New York (VNSNY).
"Nurses told me how often they grabbed supplies, lifted patients, cleaned areas and exerted physical energy overall," says Ross. "I knew they needed a very flexible uniform, with very deep pockets on the sides so as to not to disrupt patient-to-nurse contact." She chose blue, "a very pure, cool tranquil color," and used three different shades. Navy for the pants creates a slim silhouette, and the cotton jersey knit fabric is stretchy (read: comfy) and flattering on all body types. Ross revamped the traditional lab coat—hers is made of a water-wicking woven cotton—to include stacked side pockets, pleating down the center back, raglan sleeves and button tabs that help hold the stethoscope in place.
Ross may have won the contest, but the real winners are the nurses at the 25-bed inpatient facility. "They're thrilled and eagerly awaiting the uniform," says Jeanne Dennis, Senior Vice President, VNSNY Hospice Care. Ross is pretty excited herself. "It makes me feel so great to know that my uniform design will help make VNSNY nurses look and feel good, while adding to the comfort and ease of their job."
Mandatory Scrubs? Tell Us What You Think
In the last issue, we told you about a tussle over nurses wearing prints versus solids. Now comes news that some hospitals are implementing a uniform policy requiring that all nurses wear matching, solid-color scrubs—and it's causing controversy once again. The pro-uniform group argues that identical colors help patients better identify nurses; the anti-uniform group contends that the dress code steps on their individuality—and that patients like the varying bright colors and prints they wear. Where do you weigh in?