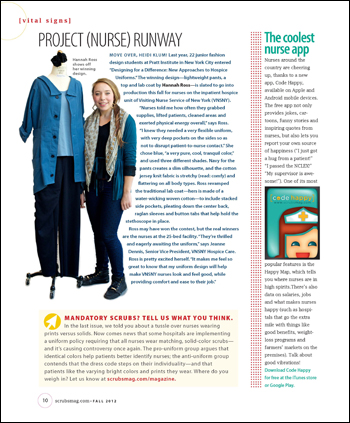 Male Call
There are signs that more men are becoming nurses. Some nursing schools are reporting increased numbers of male students and, according to the latest Health Resources and Services Administration figures, the number of men in the profession grew from 5.4 to 7 percent from 1996 to 2010. Some estimates put today's figures closer to 10 percent. Still, that's relatively small—something Chris Foard, MSN, RN, a physician liaison for Bayhealth Medical Center in Dover, Del., is working to change. Foard, a former army paratrooper and psychiatric nurse, started a Delaware chapter of the American Assembly for Men in Nursing (aamn.org) and is speaking out to encourage men to become nurses. "Nursing isn't a female profession," says Foard. "Many men have the passion, dedication to service, compassion and caring that makes them the right fit for nursing."
Foard has another reason for wanting more men to join the profession: increasing awareness of men's health issues. Women talking to women about health has resulted not only in greater knowledge about diseases, but has brought in millions of dollars for research (think of the breast cancer awareness pink ribbon). "Male nurses talking to men about men's health issues will bring about more research and education," says Foard. "Prostate cancer is an obvious issue, but men have higher rates of suicide and addiction, too." Advocates hope to see the number of male nurses more than double by 2020. "Twenty percent in 2020, that's our goal."
Nightstand Reading
Nurses Can Learn from Thinking, Fast and Slow
When Thinking, Fast and Slow hit the New York Times Best Sellers list, I couldn't help but think: I want to think fast! But what was the slow part about? Written by Daniel Kahneman, a winner of the Nobel Prize in Economics (though he is actually a psychologist), the book should appeal to nurses because his theory—that there are two different "systems" of thinking: System 1, intuitive "fast" thinking, and System 2, more analytical "slow" thinking—validates the way nurses operate. We do use our intuition, but it's always informed by the critical thinking were trained in.
—Theresa Brown, RN, Scrubs contributing editor, regular contributor to The New York Times and author of Critical Care: A New Nurse Faces Death, Life, and Everything in Between
The Sexy Nurse Stereotype Rides Again
The stereotype of the sexy nurse is nothing new, but who would have ever thought it would be perpetuated by a hospital? That's what happened recently when Stockholm South General in Sweden ran a want ad for nurses with "TV-series hot looks." It was insulting, to say the least, and the hospital had to backpedal quickly. Their lame rationale:Â  They were just trying to draw "attention" to the job (and they did, but not the kind of attention they were hoping for).
"If it's funny, then it's harmless, is the line that is taken, but the message behind the humor is that nurses are doctors' playthings or legitimate sexual targets for patients," says David Stanley, RN, ND, an associate professor in the school of population health at the University of Western Australia. Stanley was "staggered" to learn of the sexualized want ad in this day and age, though his own research shows the long history of sexy nurse typecasting. In his paper titled "Celluloid Angels: a research study of nurses in feature films 1900—2007," published in the Journal of Advanced Nursing, Stanley described his findings that nurses were portrayed as sex objects 26 percent of the time. It's fiction, but still…. "The images, thankfully, do not stop nurses from doing a good job," says Stanley, "but they can impact how some members of the community see and value nurses, and this can impact the depth of the nurse/patient therapeutic relationship." The good news is that most patients see nurses for what they are: skilled, competent professionals.