Want to curb the spread of germs? Science says to fist bump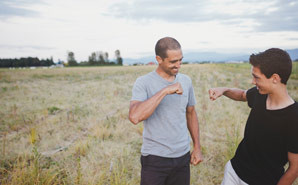 Nurses spend quite a bit of time worrying about how to prevent the spread of germs, so we knew you'd appreciate this news: A new study shows that you may be able to spread less germs by greeting people with a fist bump rather than a handshake.
Yep, whatever you think of the fist bump craze as a form of greeting, scientists have discovered that "knocking knuckles" (as NPR calls it) spreads 90 percent less germs than a handshake. The finding comes from a study by scientists in Wales that was published in the American Journal of Infection Control.
Of course, the finding makes sense when you consider the amount of contact during a handshake versus that of a bump. As you might expect, the amount of germs spread through a handshake rises along with duration, the amount of contact and increased grip.
"People rarely think about the health implications of shaking hands," said Dave Whitworth, a biologist at Aberystwyth University in the United Kingdom, in a statement according to Reuters. "If the general public could be encouraged to fist bump, there is genuine potential to reduce the spread of infectious diseases."
The fist bump has become more and more ubiquitous in recent years, and everyone from the Dalai Lama to strangers at concerts have been known to share a bump moment. If fist bumping isn't your thing, the study also found that high fives also are more hygienic than handshakes, though they still spread about twice as many germs as fist bumps.
Will this news change your preferred method of greeting someone? Will you share this fact with your patients? Let us know!