David Katz, is the Team Leader of the Malibu Search and Rescue Team, Los Angeles County Sheriff's Department. On Sunday January 26th he received a call that changed his life. In David's 30 years on the team, he has never seen such a horrific accident. We sit down with him for a one on one account of what happened that day.
9:54 a.m. on Sunday January 26th, I was about to head out for a late breakfast when my cell phone rang. I saw the caller's name (Scott) and knew something was wrong. Scott is one of my teammates on the Malibu Search and Rescue Team (Malibu SAR), and only calls me if there's a potential rescue call. His voice was elevated, frenetic and energized. "What's up" I asked. "There's a reported aircraft down near Malibu Creek State Park," he exclaimed "and I can't get ahold of our patrol crew". Scott said that he and another team member were close to the crash site and were headed there. I hung up and quickly called Rocky, a senior team member on the patrol crew. She answered and I could hear the rescue truck's siren blaring in the background. "What's your 20?" I asked. "We will be on scene in seconds and fire just requested us," she responded. I hung up the call, dispatched the Malibu SAR team and sped to my vehicle.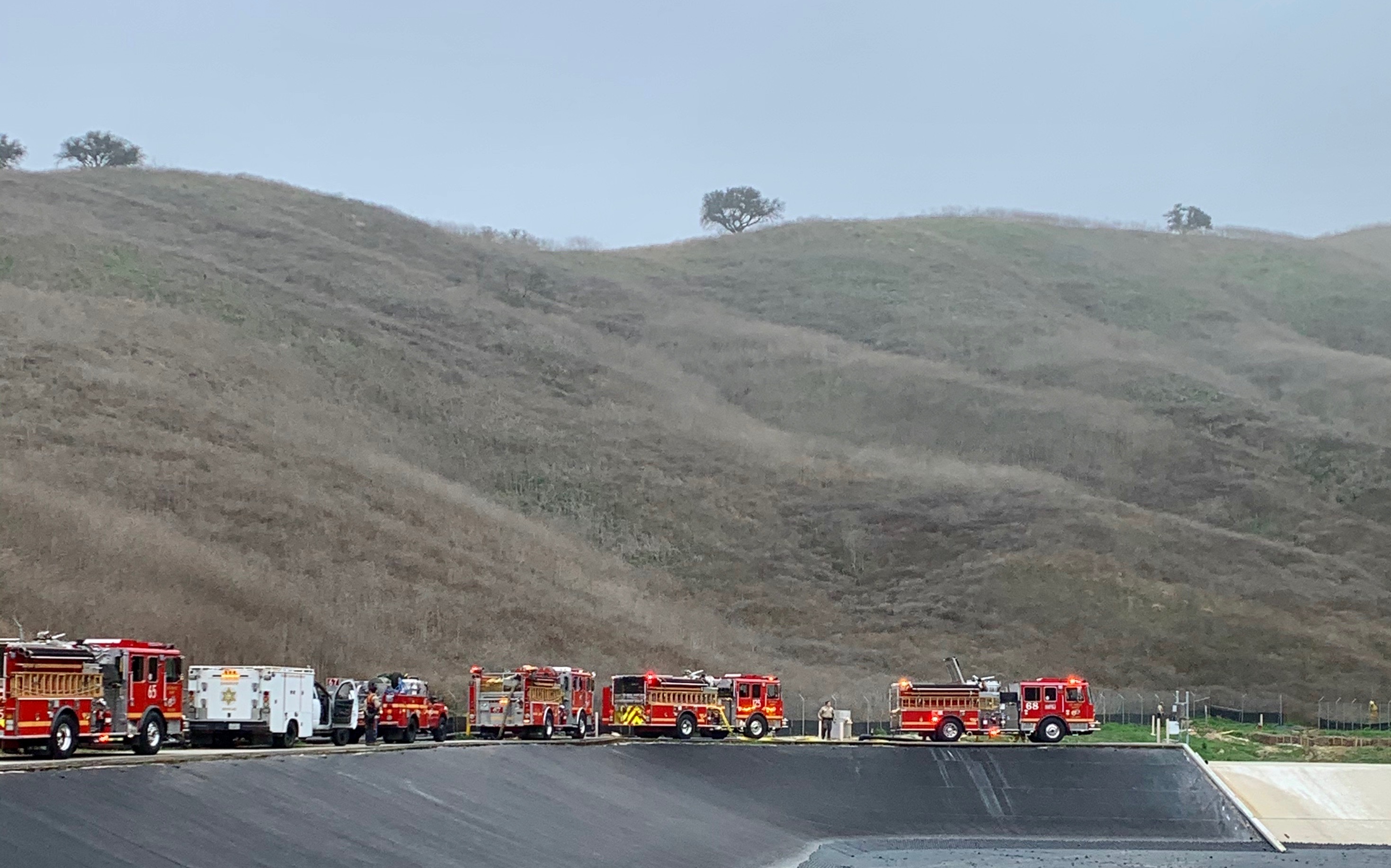 Coincidentally, I was in Calabasas that morning, less than 10 minutes from the crash site. I turned on my radios. The transmissions on both fire and sheriff's frequencies were hyper. Confusion ensued as responders tried to locate the incident and guide in responding resources. I arrived on scene to the cluster that accompanies the first hour of a mass casualty incident (MCI). Sketchy information, lots of first responders milling about. This one would be different.
Arriving on scene, I parked my vehicle by the command post, grabbed my tactical rescue vest, harness and helmet and hiked up to where multiple fire trucks and the Malibu SAR rescue truck was parked. From there, we stood watching the large whitish-blue plume of smoke about three quarters of a mile up the mountain.
Hovering low under the fog line, just above the smoke, was a Los Angeles County Fire helicopter. Two fire department brush crews were midway through the strenuous hike up the hillside. Fortunately, the fire from the crash had not triggered a brush fire. It was contained to the wreckage and they soon headed back down.
Over the fire frequency, there was a crackling voice. "No survivors. Three fatalities". The helicopter lowered its hoist cable and retrieved the paramedic that was assessing the scene. It was now a crime scene and the recovery operation the Sheriff's Department's responsibility.
I consulted with our patrol crew and decided that a few of us would quickly return to our Sheriff's station a mile away, retrieve our ATVs. Minutes later as I was filling my ATV with gas, a breaking news alert displayed on my phone. "Kobe Bryant dead in helicopter crash in Calabasas." "Oh my god," I announced. My teammates looked over at me. "Kobe Bryant was on the copter," Their faces turned white. We knew that this would not be a normal recovery and we needed to get back on scene and secure it.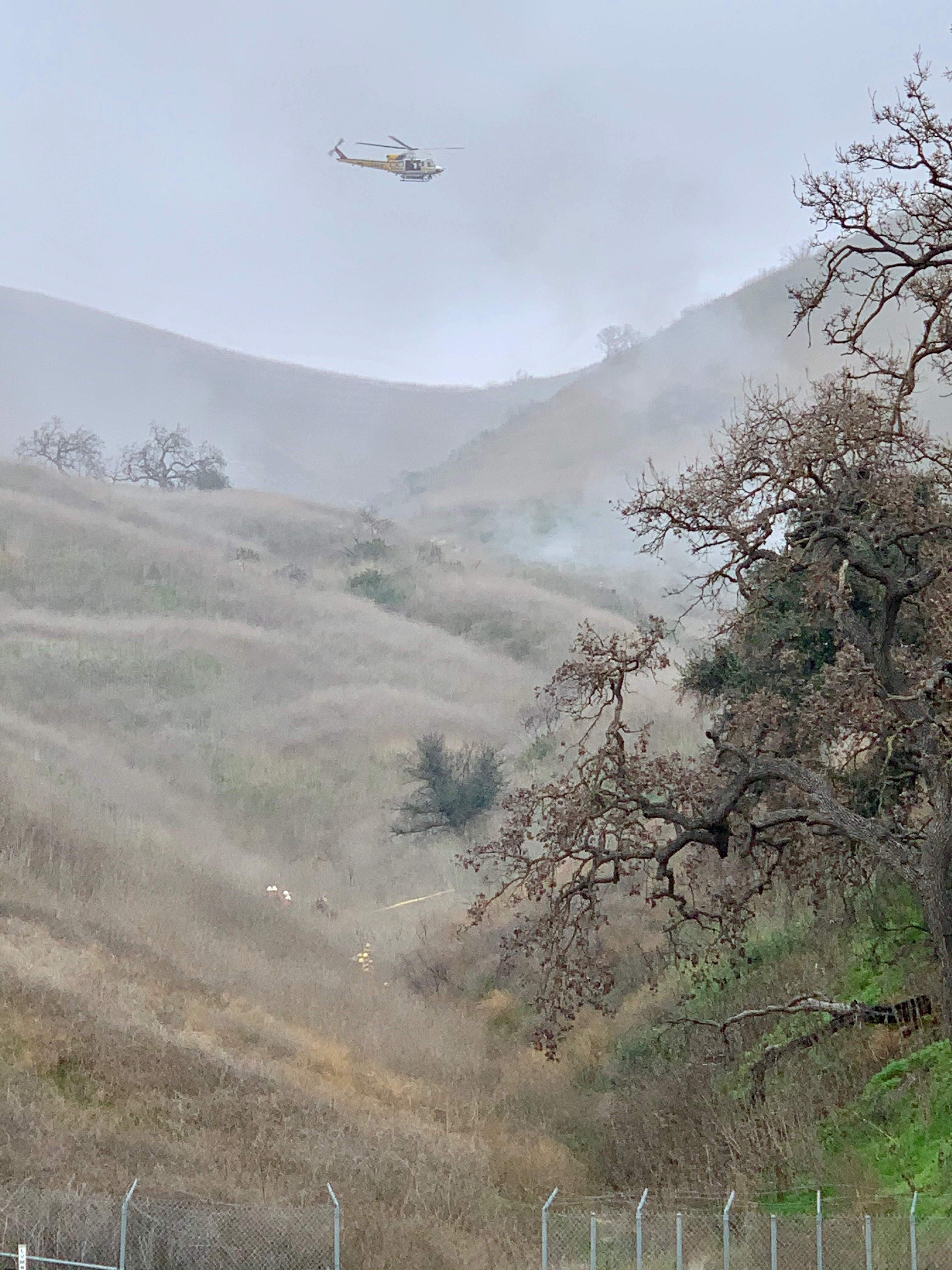 Firing up the ATVs, we roared out of the parking lot, making our way back within a few minutes. My partner Rocky and I steamed up a nearby narrow hiking trail on one ATV. The trail was so tight it would prove difficult to turn the ATV around. At various points I had Rocky exit the ATV because the trail was washed out and dangerous to cross. As we proceeded uphill, my phone updated with more breaking news. The first report was three victims. Then it was five, then seven, and finally nine. Nine fatalities? Apparently, the news had received information about the passenger manifest.
About 20 minutes later, Rocky and I arrived at the crash site, not knowing what to expect. We graduated the Sheriff's academy together in 1990. We had both seen our share of deaths in the 30 years since. But nothing prepared us for what we encountered. It was horrific. Imagine hitting a hillside in an aircraft at super high speed. You cannot "unsee" it no matter how many times you try.
As we exited the ATV, we could smell the unmistakable strong jet fuel odor. For safety, we parked about 200 yards away from the main crash site in case the hillside ignited. We turned the ATV around for a hasty exit and then started walking to the crash. First briskly, then slowly and cautiously. We passed the ominous helicopter tail section that had come to rest on the hiking trail. There was no tail rotor left, just the frame and the manufacturer's name "Sikorsky" painted on the side.
As we rounded the mountainside towards the smoke, we came upon the fuselage. There were deceased passengers nearby. We gasped. There was an awkward silence that permeated the landscape. It was a solemn scene, deserving of our respect and care. We knew without words that many families will be forever changed. As we approached, we could smell the toxic magnesium cloud that swayed back and forth as the wind shifted among the low-lying fog.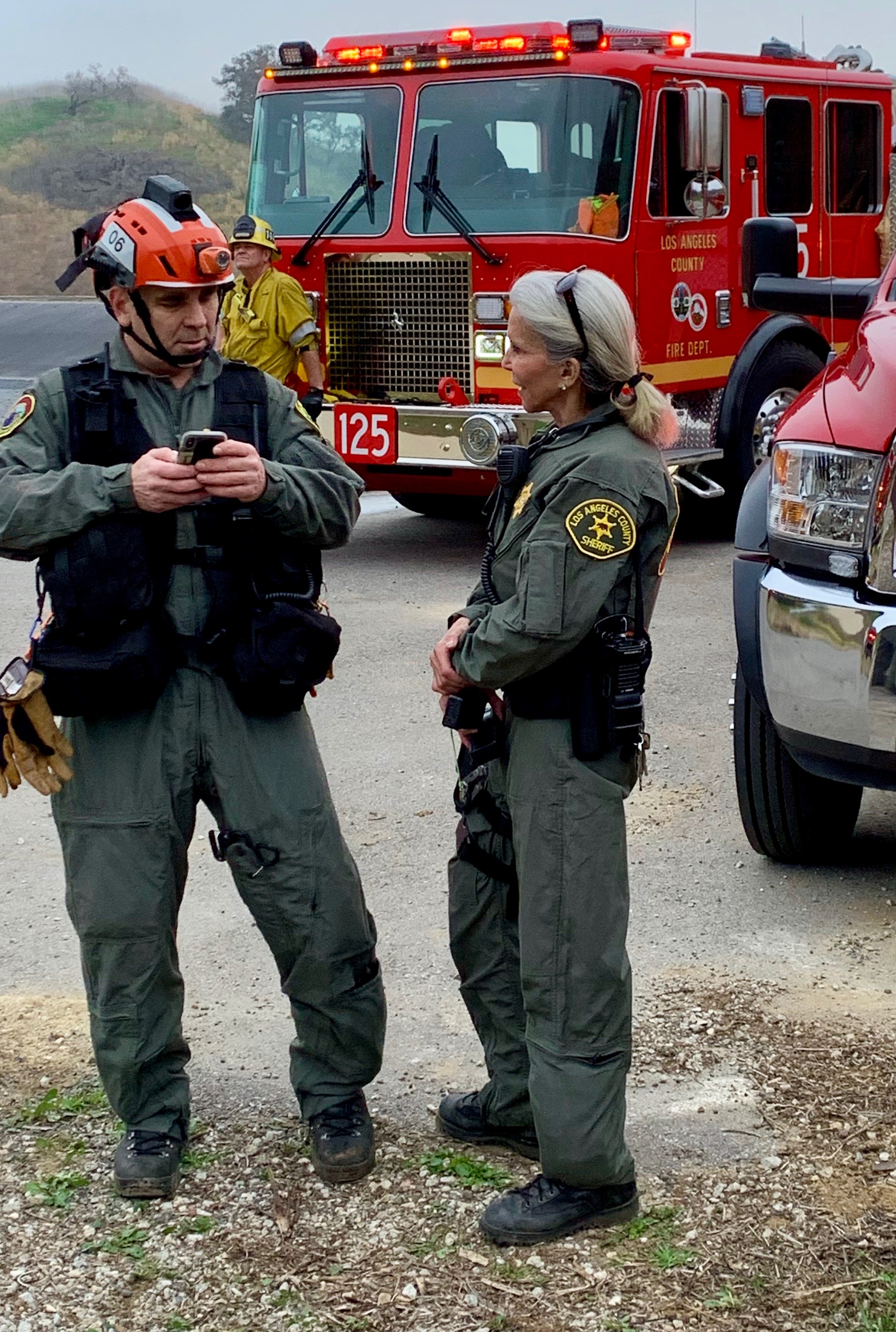 David Katz and retired Nurse Rocky
That morning was an incredibly low ceiling of fog. By the time we reached the crash site, the fog line was not much higher than the top of the mountain. The cause of the crash was under investigation, but speculation ensued. Weather? Pilot error? Medical emergency? Mechanical? The cause was unimportant. At that moment we had a job to do. As we stepped toward the fire, we met up with the lone deputy that had hiked up to the site. He was standing on the other side of the burning wreckage. We could not cross over the smoldering melted metal to get him. I tossed him a couple of bottles of water and asked him what we had.
He told us he had located additional fatalities. Rocky and I climbed the hillside to search around, assess for scene safety, determine the size of the debris field, locate victims, and plan for additional required resources and equipment.
Requests were made. Hazmat experts to extinguish the magnesium fire, 10 deputies to secure the scene overnight, coroner, NTSB, FAA, homicide detectives and others. Late that afternoon, the NTSB, homicide detectives and coroners arrived en masse. Fire department Hazmat firefighters also arrived with specialized equipment. Investigators began to document the scene, taking pictures and making notes while hazmat addressed the magnesium fire and hazardous materials.
Additional Malibu SAR rescuers had already arrived to cover the victims. Assisting agencies spent hours at the scene. We helped several of them up the steep hillside above the airframe. We were quickly losing daylight and the temperature was dropping precipitously.
The coroner authorized the removal of three victims that first night. Malibu SAR started evacuations using a litter and litter wheel down the hillside to the command post. Because of the conditions, the coroner personnel decided the remaining victims would be removed the next day and requested that we field additional rescue personnel at 7 a.m. Sunday night I called our team for additional responders the next morning. The locations of some of the victims would require technical rope systems to evacuate and we would need a lot of personnel.
Since most of our team had been at a two-day snow and ice training that weekend, rescuers were exhausted. As night fell, we added a call to our sister team, Montrose Search and Rescue (Montrose SAR). We requested six rescuers for Monday. They responded and sent 11.

Unlike Sunday, Monday was a calmly planned operation. After assessing our needs on Sunday night, we knew the terrain lacked adequate rope system anchors, there was a large debris field, multiple fatalities in various locations and the presence of hazardous materials and dangerous sharp objects everywhere.
I coordinated with a senior Malibu SAR teammate, designating him the field team leader for Monday. The plan was to create anchors using pickets and deploy ropes systems to lower and raise rescuers and victims. This would be followed by a large-scale search by all rescuers of the vast debris field.
In total, 23 Malibu SAR and 11 Montrose SAR personnel deployed over the two-day operation. These 34 rescuers were integral to scene safety, securing the scene from interlopers, recovering victims and assisting other agencies with searches for evidence and remains.
It will forever be engrained in our psyches that we were at the crash of Kobe Bryant and his daughter and seven of their close friends. Three of them were 13 years old. Many of the rescuers have children, some of which are the same age. It hit home for us, we are human. There were mothers, fathers, sisters, brothers, daughters, sons, wives, and husbands that were killed. There are families forever changed. The grim task that we all accepted hopefully brings solace to the surviving loved ones.
After 30 years of doing search and rescue, my friends know what we do. The areas that we cover – Malibu, Calabasas, Agoura, Westlake have their share of high-profile residents and it's not uncommon for us to have a call involving a famous person. As I stood on the hillside that day, my cell phone blew up with texts and calls. "Is it true?" "Is it Kobe?" "Are you at the crash?" Texts were coming in one after the other. "I can't talk, I can't confirm anything" I responded. The next day, about 50 people posted on my Facebook, all saying pretty much the same thing. "I had a feeling that you were there. It must have been so difficult. Thank you for your service. I hope you are okay."
Despite the horror of those two days, I most proud of the volunteers of Malibu SAR and Montrose SAR for their work over the two-day incident. Yes, volunteers! This was a gruesome task, but it was our responsibility. Everyone mustered their game face and compartmentalized the experience. There would be time later to decompress. I encouraged our rescuers to reach out if they needed assistance to cope. There is no shame, no embarrassment, no judgment.
A week later, a psychologist came to meet with our team and talk about PTSD, coping with stress and how to recognize signs of suffering. We discussed monitoring each other and keeping an eye out for changes in behavior and expressed our feelings and struggles openly. One team member explained how he had unnecessarily chewed out another team member a couple days after the crash. He realized something was wrong and reached out for help.
This incident heavily impacted Los Angeles residents, as well as people around the world. May the nine victims rest in peace and may their families find a modicum of solace to move forward in the face of their overwhelming loss.
We are an unbroken band of first responders. We are a family. We are the first and last line for many. We are search and rescue, "so others may live".