Weight loss tips for nurse teams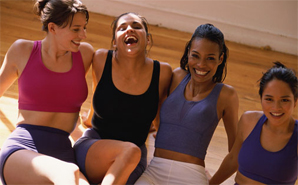 The mega-hit NBC reality series The Biggest Loser, which features obese contestants in a weight-loss competition, has captured the attention of audiences from coast to coast. Included in those who have been paying attention are the pediatric oncology nurses at M. D. Anderson Cancer Center, who launched their own version of The Biggest Loser contest in January 2008.
The "Biggest Loser" nurses at M. D. Anderson assert that the competition has not only improved their personal lives, but their work environment as well. Below are some tips on how your unit can work together as a team to lose weight.
Instead of bringing boxes of donuts for staff to share, encourage patients and families to bring granola bars.
Motivate one another! Nurse manager Leslie Christison says, "[M. D. Anderson nurses] encourage each other to drink lots of water and give each other kudos for walking more and eating right. I've never seen so many salads and Lean Cuisines in the staff lounge for lunch!"
Get a workout group together and give yourselves some creative names. Here are examples of some names that M. D. Anderson staff have come up with: Pork Rinds, Loosiana Losers, the Flab-U-Less Duo and Shake, Rattle and Roll Your Weight Off.
Inspire each other, knowing that as a nurse you are setting an example for your patients. Paula Garroutte, pediatric oncology nurse who lost 50 pounds on the program says, "working at a cancer center has made me want to live a healthier life. Obesity is linked to an increased risk of cancer, diabetes and heart disease. I'm not setting a good example for the patients here if I don't lead a healthy lifestyle myself."
Read all about advanced practice nurse in Pediatrics at M.D. Anderson, Beatriz Rozo and her amazing weight loss story in "Biggest Losers" — The Nurse Edition.