What do scrubs say about your nursing personality?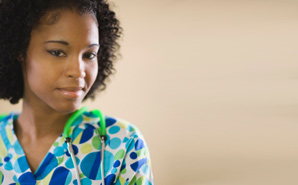 Hospital fashion has always been interesting to me. The type of scrub top you pick out in the morning in some ways seems to reflect your personality.
For example: Flowery, bright tops tend to be paired with cheerful, optimistic personalities. Dark colors and solid scrub sets tend to be worn by those who have more practical dispositions. Is this a stereotype? Or is it an age thing?
I used to wear funny scrub tops (you know with dogs, cats, old people, silly ones) and over the years I have become one of the "boring" nurses. I usually wear one of my work sweatshirts and black scrub pants and black clogs. Sometimes I feel badly that I'm not "fun" anymore but then I remember how many layers I have to wear to work to keep warm (a tank top, a long sleeve shirt, and my sweatshirt!!) so it is just easier to have monotone colors to pick from! Plus, I don't want to look like the nursing version of Punky Brewster!
I work with a nurse who just had the most beautiful silk scrubs made while he was back home in the Phillipines. They are GORGEOUS! I can't imagine actually wearing those to work in though…one word: Betadine. Then those beautiful scrubs are history. I may have tons of betadine stains on my scrub outfits but my clothes are so boring you can't see them!