What shortage? Nurses react to the hiring climate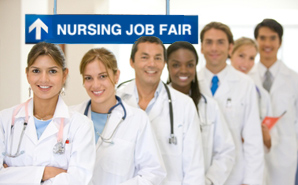 Recently, Scrubs published an infographic about the nursing shortage.
It illustrates the causes and the projected outlook for a looming crisis (one which we've all been hearing about for years).
Here was one reader's response:
Please give more information if possible. Where are these shortages expected? Specifically? Regions? States? Hospitals? Nursing homes and long term skilled? Nurses do want to know. Thank you! I will be listening in. This is something we need to discuss with our State Boards of Nursing, respectively, in each state.
—Submitted by Jean Weigel
More than 100 Scrubs readers shared their passionate views about the nursing shortage crisis that, to them, refuses to hit.
Here are 6 suggestions  from the front lines — that is, in your own words — on how to improve the hiring climate for nurses.
1. Give nurses the opportunity to gain experience
Facilities don't hire without experience…yet [they] don't give us the opportunity to prove ourselves. I tried for 5 years to get into LDR. I had an awesome supervisor who was willing to take that chance with me and hire me for LDR. I LOVE MY JOB!!! But then again…it took 5 YEARS!
—Submitted by Jessica Zamot Vigil
2. Hire more educators
About to graduate in May with my BSN. Nervous about getting a job I will be satisfied with after graduation. With such a shortage, hospitals and community centers should be sucking up grads like sponges, shouldn't they? Also, big problem like the article said is educator shortage. My nursing program accepted 73 people out of 850 applicants, and they still have a lack of available, adequate, qualified faculty. Not enough people want to be nurse educators.
—Submitted by Meghan Anderson
3. Nurses need to demand respect
Facilities need to treat nurses like the professionals we are. Nurses need to start demanding the respect our profession has earned. I do not believe your degree has anything to do with it if you truly want to help people from your heart and earn a decent living from it. Corporate needs to recognize that and give nurses the benefits to do their jobs and earn a decent living while doing what they love. Institutions will grow with a reputation of treating their nurses well and in turn, patient care and satisfaction will rise. It will be a WIN/WIN situation.
—Submitted by Lynn Criscuolo Swanda
4. Help nurses transition
There needs to be more LPN to RN transition programs because there's not enough and we have to compete with other non-nurses getting into regular track!
—Submitted by Holly Payton
5. Nurture the young
Bring home the jobs to the newbies! We need our young BADLY! Nurture them, they are our future!
—Submitted by Maria Gallo
6. Teach nurses to be kind (to one another)
BE GOOD to your nurses. Stop making up stuff and blaming nurses for other peoples inadequacies, inadequacies of the system, etc. Stop yelling and criticizing for one minute and be supportive some of the time. Teach nurses how to be kind to one another and do something to improve nurses' self esteem so they don't feel the need to belittle another nurse. A little human kindness could go a long way to decreasing the shortage.
—Submitted by Kelli Waller
What's your solution for improving the current "shortage" climate?